Simple. Slow. Savor.
I've been taking the last few weeks of this new year, as an opportunity to reflect and ask myself, how can I make this life of mine simpler….what self-imposed standards can I let go of, so my life has more margin for savoring this sweet season I'm in. I'm talking tiny things here–like, when can we use paper plates to eliminate a few dishes to wash…when can I put a meal in the freezer, so there are days I don't have to cook…and some bigger goals like waking up earlier to get a start on my day in God's word and less time on my phone–more time present in my life.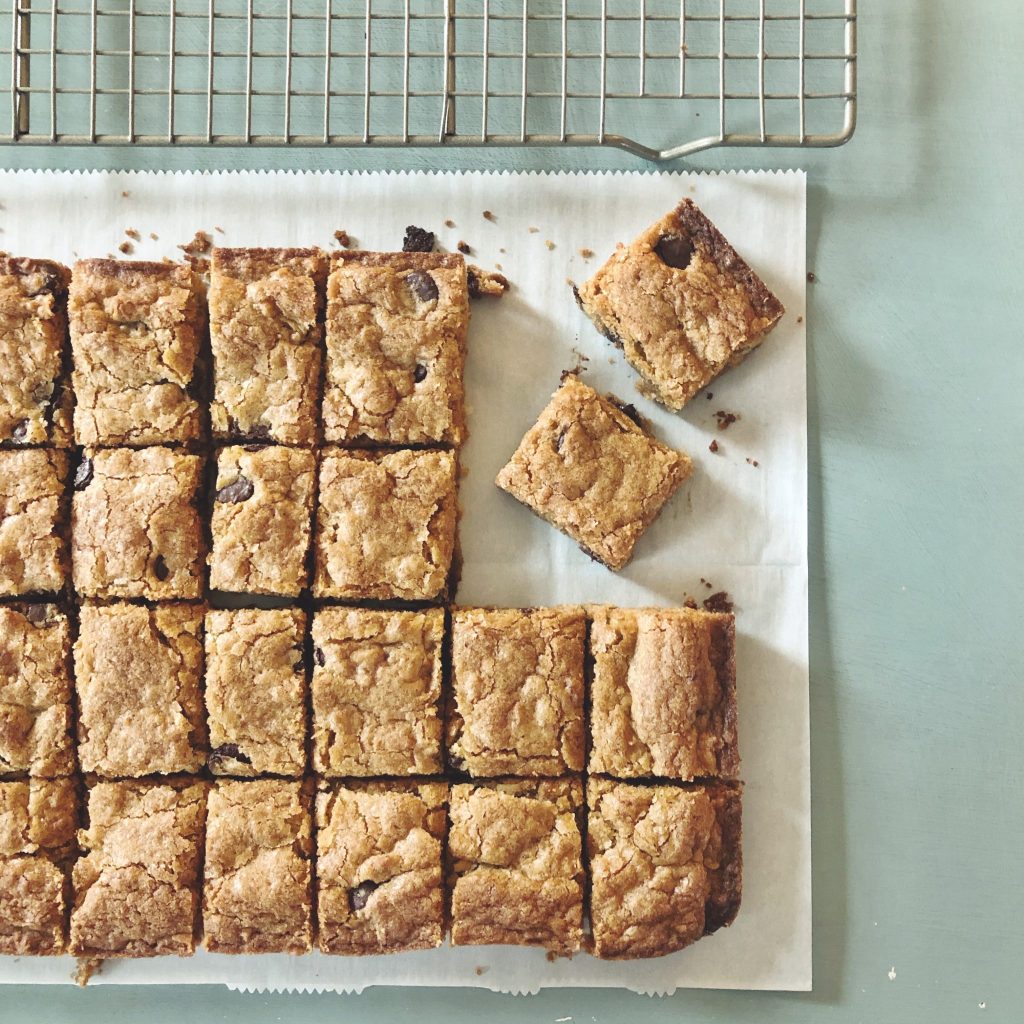 I've spent some time evaluating and giving myself the freedom to choose simple and easy things, so that life has less hustle and more worship. I fail and lapse more than I don't, but I've got to keep trying. What does this have to do with dark chocolate and coconut, you ask? Because these little bars are deliciously simple, highly rewarding, and just the sort of end of the week treat you can whip up to bless your people.
So as I seek to choose more simplicity and strive less in this next year, I'll share from time to time some of the goodness I'm finding…because sweet or savory, lots of simple and wholesome and lovely things can come from one fine 13×9.
Dark Chocolate Coconut Blondies
[From Sally's Baking Blog]
2 cups all-purpose flour
1 teaspoon baking powder
1/2 teaspoon salt
1 cup butter, melted and slightly cooled
1 and 3/4 cup packed light or dark brown sugar
1 large egg + 1 egg yolk
1 Tablespoon pure vanilla extract
1 cup sweetened shredded coconut
1 cup dark or semi-sweet chocolate chips
Preheat the oven to 350°F and grease a 9×13 inch pan or line with parchment paper, leaving an overhang on the sides to lift the finished blondies out (makes cutting easier!). Set aside.
In a large bowl, whisk the flour, baking powder, and salt together.
In a medium bowl, whisk the melted butter and brown sugar together. Once completely combined, whisk in the whole egg, egg yolk, and vanilla extract until combined. Pour the wet ingredients into the dry ingredients and gently whisk until combined. Fold in the coconut and chocolate chips.
Evenly spread batter into prepared pan. Bake for about 35 minutes, or until a toothpick comes out *mostly* clean. Remove from the oven and allow the blondies to cool completely in the pan set on a wire rack before cutting.
Cover and store leftover blondies at room temperature or in the refrigerator for up to 1 week.
Freezing Instructions: Blondies freeze well up to 3 months. Thaw overnight in the refrigerator then bring to room temperature before serving.