Few things are as simple and comforting as a fruit crisp. Growing up, I fondly recall my mom whipping up a fruit crisp for a weeknight dessert. Always easy, always delicious, not to mention versatile, it's one fine 13×9.
Now, not every crumble is made equal. I like mine to be hearty and substantial, a little hefty and almost cookie-like. Never dry or floury, it should be equally a star of the show, in my humble opinion. My favorite recipe comes from Brenda over at A Farm Girl Dabbles. Her ratios are perfect and I like to double her crumb recipe for a 13×9, so you can make sure you have plenty of crumble for every bite.
And a quick word on the fruit options–I absolutely adore rhubarb but you could easily do this with other fruit too. Fresh or frozen peaches would be delightful, and of course apples work too! You can also make this recipe even simpler and just purchase your favorite canned fruit pie filling (see note below). In fact, I like to keep a can or two of apple pie filling in the cupboard in the event that there is a dessert "emergency."
However you mix up this simple little dessert, it's guaranteed to be a warm and wholesome sweet treat you can whip up in minutes. .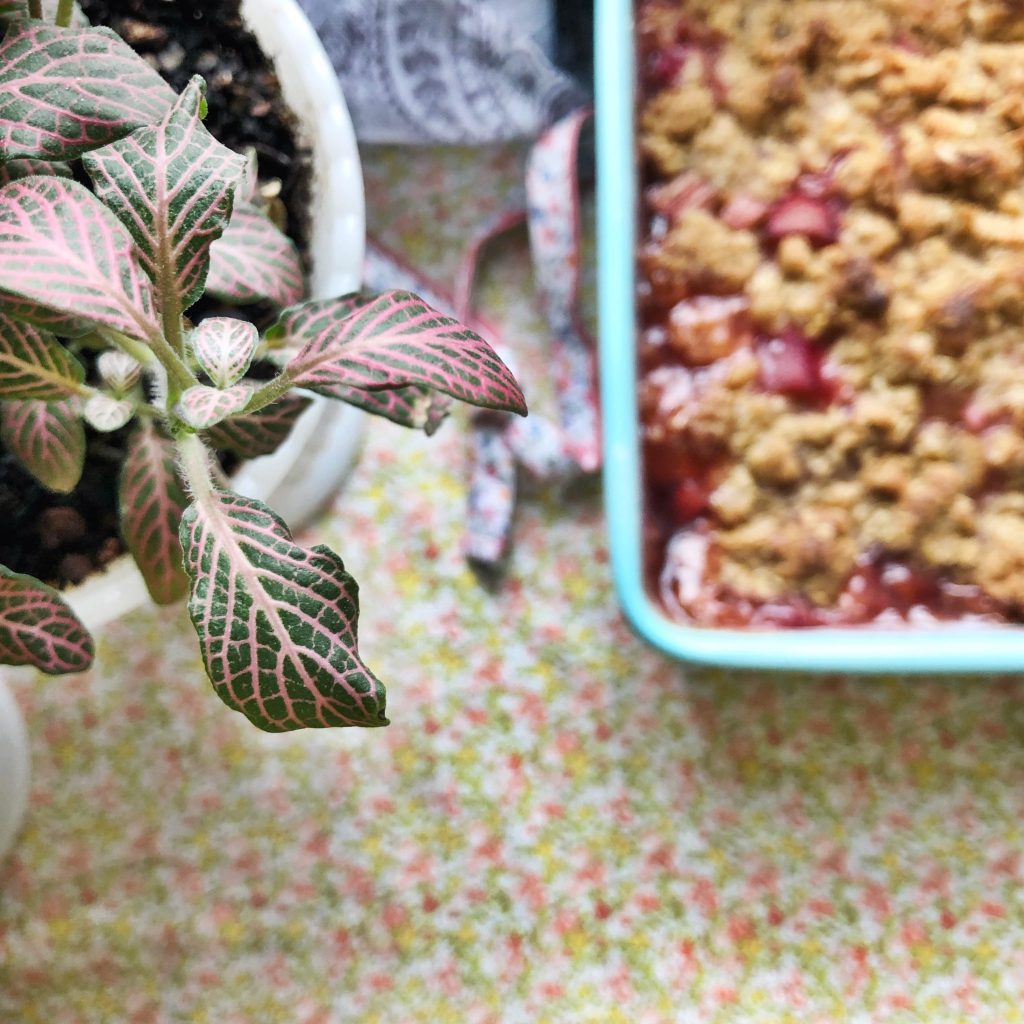 Most Favorite Rhubarb Crisp
Fruit:
1 to 1 1/4 c. sugar
3 tbs. corn starch
6 cups fresh or frozen rhubarb
Crumble:
1 1/2 c. all-purpose flour
1 1/2 c. rolled oats (not quick cooking oats)
1 1/2 c. brown sugar
1 tsp. kosher salt
2 tsp. baking powder
1 c. unsalted butter, softened to room temperature (do not melt)
Preheat oven to 375 degrees.
To prepare fruit mixture:
In a large bowl, whisk together the sugar and cornstarch (use more sugar if your rhubarb seems extra tart). Add rhubarb and toss to coat rhubarb with the sugar mixture and place in a 13×9.
To prepare the crumble:
In a medium bowl, whisk together the first five topping ingredients. Add butter and cut in with a fork or pastry cutter until combined and large crumbs form. You can use your hands too. Mixture should hold together and still be crumbly. Sprinkle over the rhubarb.
Bake 40-45 minutes until the rhubarb is bubbly and the crumble is nice and golden brown. Allow to cool for 20-30 minutes. Serve while warm with ice cream. Delightful!
Notes:
*If using another fruit like peaches or apples, begin with 3/4 cup of sugar until you feel they are sweet enough. And you could add a dash of cinnamon to the sugar too!
*You can also simply use canned pie filling. For a 13×9, I would use two large cans of pie filling. Otherwise, use a 8×8 or 9×9 and cut the crumble recipe in half.