While the tostada doesn't get all the press attention that tacos do, this is one of my favorite dishes to whip up for supper. Bright, fresh, and bonus, it happens to be on the healthier side!
Gina's recipe over at Skinny Taste has been my favorite for many years now.
First, the tostada, like its taco friends, is versatile, you can pile it high with all your favorite toppings in a jiffy.  Here I added re-fried beans and queso fresco.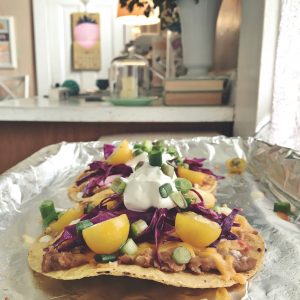 Second, the red cabbage slaw. So delish! Colorful and full of flavor, if you have never had this salted red cabbage and lime slaw, make it tonight!
You can easily adjust this recipe to your favorites, just don't skip the slaw!
And let's talk cheese. Think beyond cheddar. There are so many other options in your grocer case. Queso fresco, creamy and sort of like Mexican goat cheese and feta combined (some are made with part goats milk), super creamy, and you know my feelings on feta.  And then there is cotija, my personal favorite, similar to a Parmesan.  All sorts of salty, crumbly, cheesy goodness.
About now I should also probably mention, Gina's recipe below calls for fat-free cheese. I usually (aka always), no surprise to you, if you read the previous paragraph, do my own thing here, and opt for a higher calorie version. I justify it to myself, by rationalizing that it's more dairy, and I support dairy farmers, hence the generously portioned dollop of sour cream displayed below as well.   Rest assured, this blog will never be called the skinny pumpkin.
However,  top these tostadas with what you like and enjoy!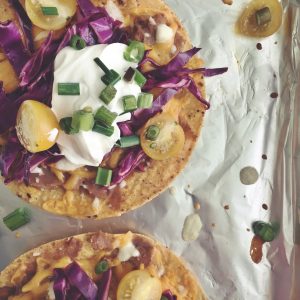 Salsa Verde Chicken Tostadas
Skinnytaste.com
Servings: 6 • Size: 1/2 cup • Old Points: 4 • Weight Watcher Points+: 5 pt
Calories: 200 • Fat: 7.5 g • Carb: 12 g • Fiber: 1 g • Protein: 22 g • Sugar: 0 g
Sodium: 465 mg (without the salt) • Cholest: 10 mg
Ingredients:
3/4 cup shredded red cabbage
2 tsp fresh lime juice (or more to taste)
5 cilantro leaves
salt, to taste
2 cups easy crock pot chicken salsa verde (warmed)
6 tostada shells
3/4 cup shredded reduced fat Mexican Cheese
pickled jalapeño slices (optional)
Directions:
Combine the shredded cabbage with lime juice, cilantro and salt, to taste. Set aside.
Preheat the oven to 350°F. Place tostada shells on a baking sheet. When the oven is hot, layer 1/3 cup of chicken, 2 tbsp shredded cheese and jalapenos over each tostada shell. Bake until the cheese is melted and the shells are crisp, about 4 minutes. Top with shredded cabbage and enjoy!