Ever make a recipe and think to yourself, "I'll be making these when I'm 80, good Lord willing…"? I'm weird like this. Perhaps I'm the only one whose heart warms when a recipe becomes a tradition… But maybe you have a recipe or two that feels like tradition too? This week's cookies have become a Christmas custom for my little family, and yes, they are so good, if I make it to age 80,  you will still find me baking these at Christmastime.
They are everything a cookie of Christmas should be; all the warm and cozy feels, chewy and delicious. They are my quinicetial to any Christmas cookie platter. Try them, they may become a tradition for you too! I know you will enjoy every last little crumble.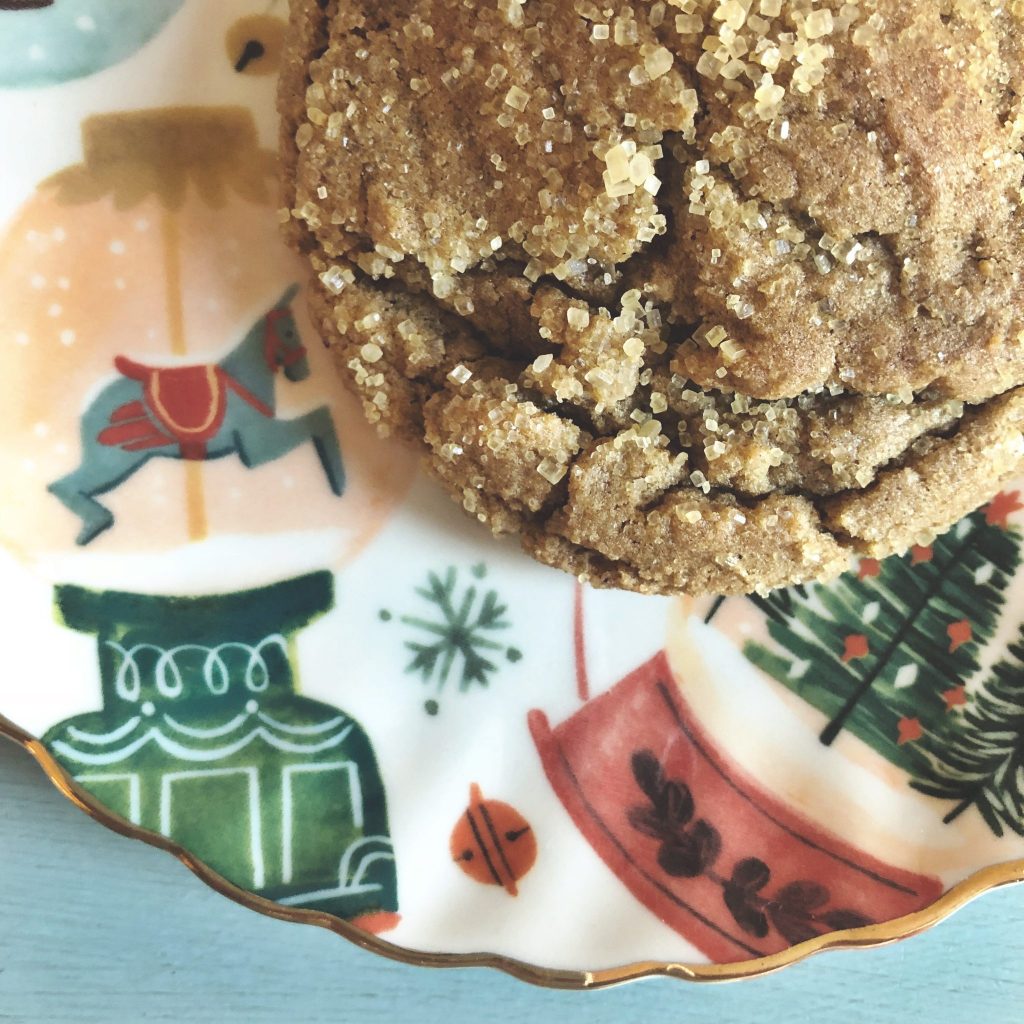 Giant Ginger Cookies
4 1/2 cups all-purpose flour
4 teaspoons ground ginger
2 teaspoons baking soda
1 1/2 teaspoons ground cinnamon
1 teaspoon ground cloves
1/4 teaspoon salt
1 1/2 cups shortening
2 cups granulated sugar
2 eggs
1/2 cup molasses
3/4 cup coarse sugar or granulated sugar
In a medium mixing bowl stir together flour, ginger, baking soda, cinnamon, cloves, and salt; set aside.
In a large mixing bowl beat shortening with an electric mixer on low speed for 30 seconds to soften. Gradually add the 2 cups granulated sugar. Beat until combined, scraping sides of bowl occasionally. Beat in eggs and molasses. Beat in as much of the flour mixture as you can with the mixer. Using a wooden spoon, stir in any remaining flour mixture.
Shape dough into 2-inch balls using 1/4 cup dough–I just use the largest cookie scoop I have. Roll balls in the 3/4 cup coarse or granulated sugar. Place about 2-1/2 inches apart on an ungreased cookie sheet. Bake in a 350 degree F oven for 12 to 14 minutes or until cookies are light brown and puffed. They will look a little undone in places–this is exactly what you want, so they aren't over baked and will come out nice and chewy.
Cool on cookie sheet for 2 minutes. Transfer cookies to a wire rack to cool. Store in a tightly covered container at room temperature for up to 3 days or in the freezer for up to 3 months.
Makes twenty-five (25) 4-inch cookies.
Enjoy!