Tea parties. Apple Dumplings. Laugh 'til we cried.
Her name was Goldie. She was my great grandma.
Tragedy came into her life early and affected her almost every day, yet what I recall most:  her quickness to laugh, her deep communion with God and love for holy scripture, her ability to make even a simple after school snack, celebration.
The melodious way she called me "sweetheart".
The special china always on her table.
Fancy was her favorite.
Our family affection for pie came straight from her. And I can't talk pie without talking about her first.
I fondly recall being in the kitchen with her, as her slight fingers and pointy, painted nails shaped the dough, pinching the ends the same way my mom does today. Grandma's apple dumplings, divine.
Like most grandmas she baked by instinct. One of the dearest material possessions I have is a tattered and worn hand written recipe card in my mom's handwriting, of my grandma's pie recipe. My young mom, as a newlywed, sitting before Grandma, asking the secrets of her pie pastry, scribbling down what little details there were and undoubtedly laughing along with grandma as she shared a story of her kitchen antics. The directions are vague, which if my grandma were here today, she would probably say, leaves room for the fun.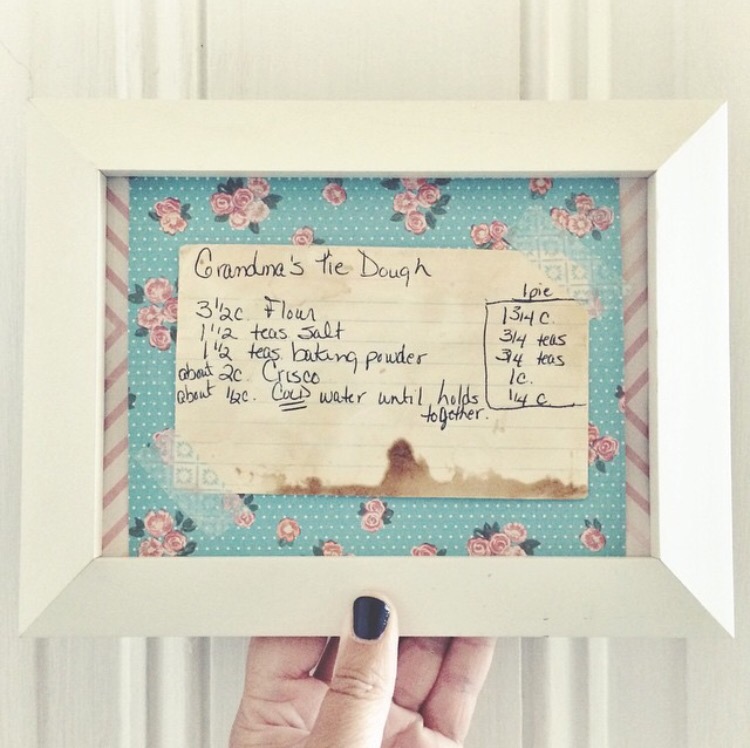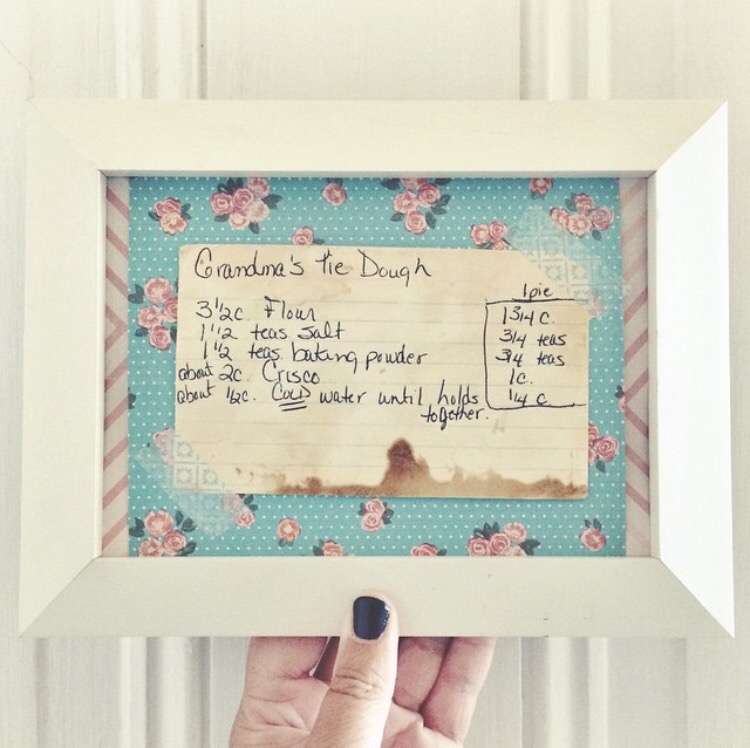 Today my mom is our family pie baker and resident bringer of the fun. She too inherited affection for pie and a quickness to laugh. She doesn't hold back either, she uses the fancy for everyday too.  Every time our family is together is special, she says. Not even a hint of cliche, as she says it. It's just truth.
"Strength and honor are her clothing, she can laugh at the time to come." (Prov. 31: 25), more than a legacy of pie making, affinity to get the giggles, or love of the fancy, these women left a wake of faith behind them that I am grateful I get to walk in, unmerited,  just like God's grace, simply there for me to receive. So when I pull out the flour and begin to measure, these are the things I think on and remember:
Be quick to laugh.
Always trust God.
Whether the recipe turns out or not….
…there is always something to celebrate.
Without further adieu, here is my beloved grandma's pie pastry recipe. Don't be alarmed by the copious amounts of Crisco. You can work it off later in laughter, like Grandma Goldie did.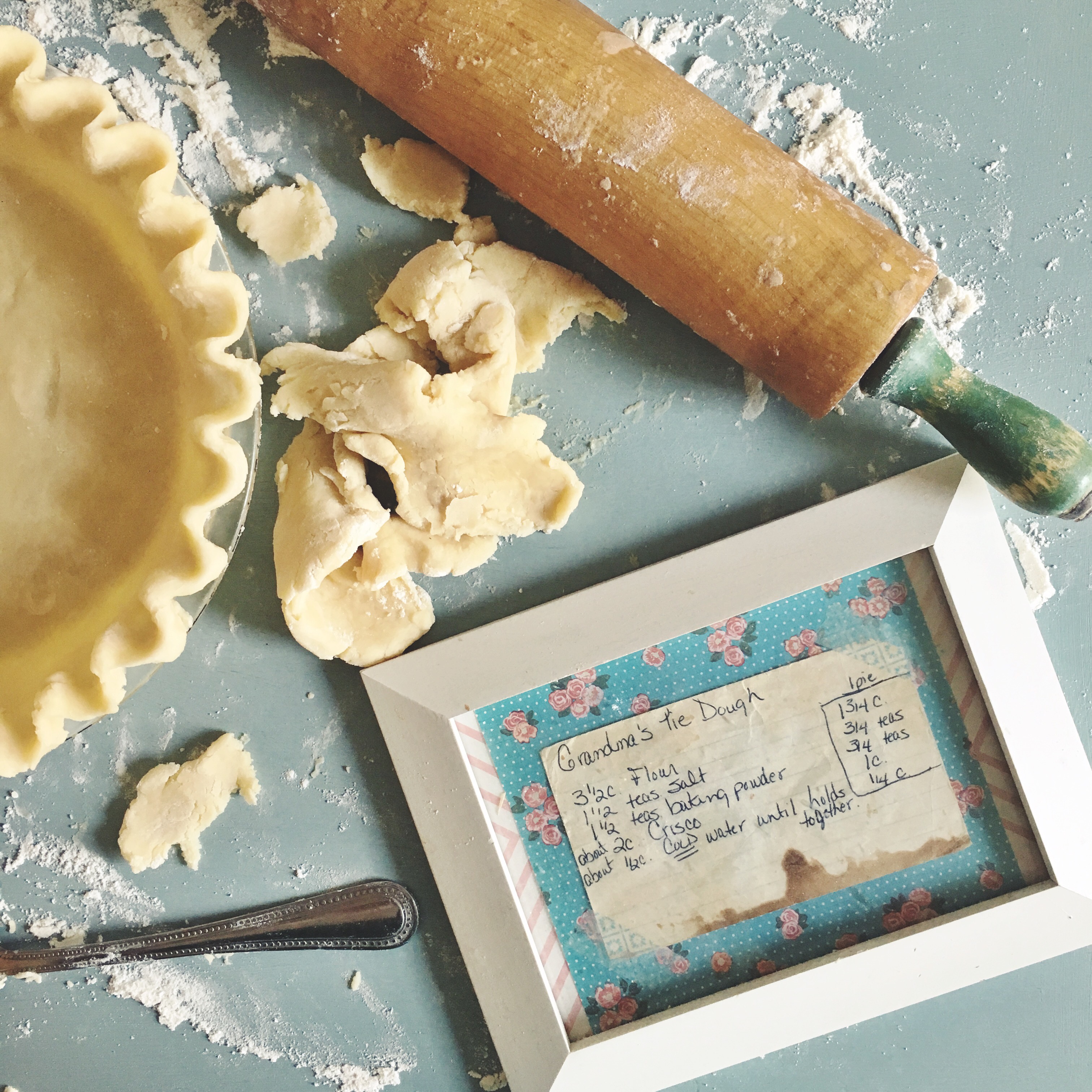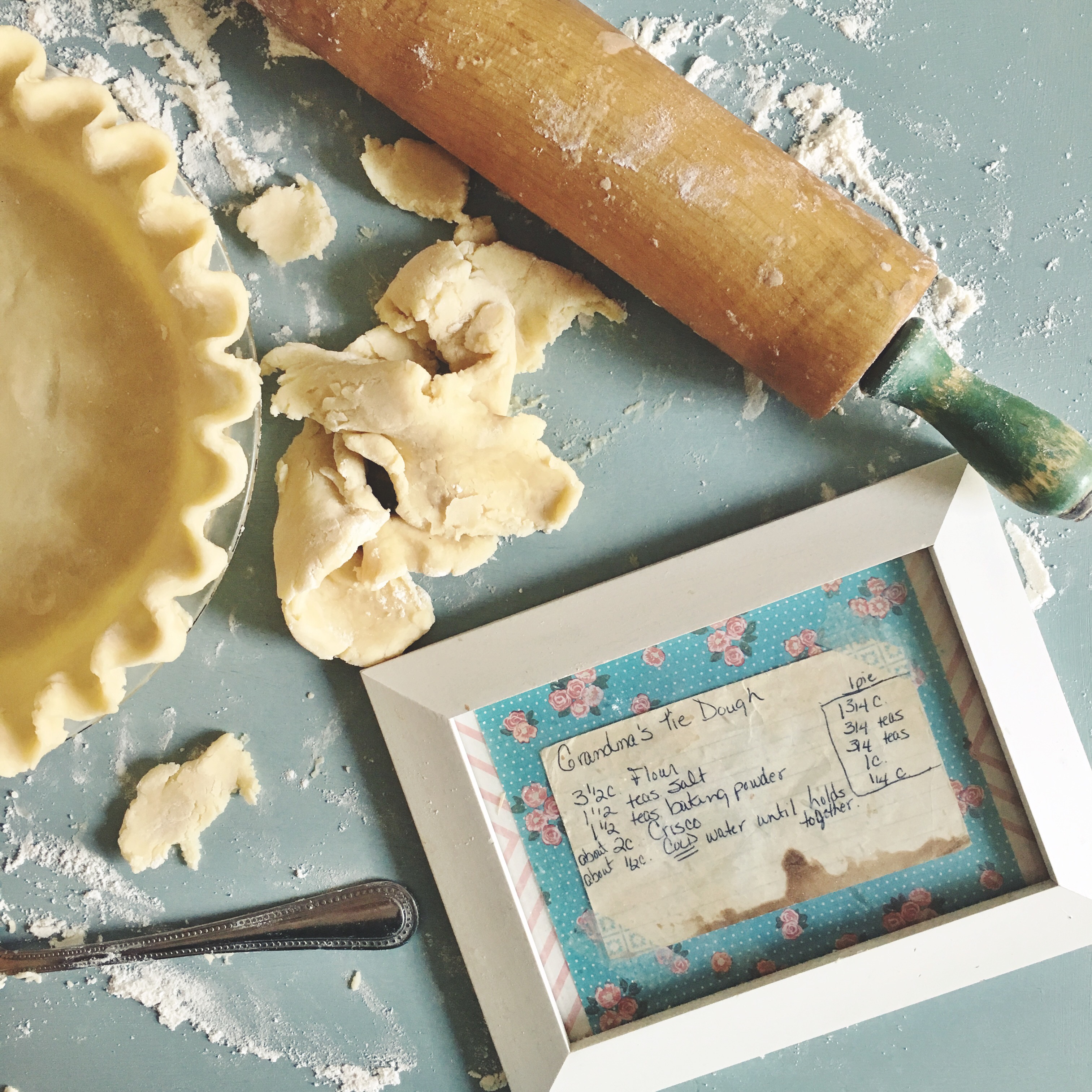 Grandma Goldie's Pie Dough
Double:
3 1/2 c. flour
1 1/2 tsp. salt
1 1/2 tsp. baking powder
2 c. Crisco (I use butter flavor)
1/2 c. COLD water until it holds together.
Single:
1 3/4 c. flour3/4 tsp. salt
3/4 tsp. baking powder
1 c. Crisco
1/4 c. COLD water until it holds together.
Whisk together the flour, salt and baking powder. Cut in the  Crisco with a large fork or pastry cutter, using up and down motions and until mixture is crumbly. Slowly mix in with a fork the water until just combined, careful not to over work. Form dough into a ball and divide (for double). Roll out on floured surface and shape as you like. If blind baking, chill dough in the fridge for at least 30 minutes before baking. Bake as your pie recipe directs, watching carefully for over browning. Enjoy!