Oh, a lazy Saturday morning with a good cup of coffee and a warm scone. Dreamy. 
I have no scripture reference to point to, but I'm pretty sure that every Saturday morning in the redeemed new heaven and earth, there will be scones. Saturday scones. Maybe even scones on Sunday. At least at my little cottage on the redeemed planet, there will be plenty of baked goods that reflect the glory of God. Because we currently live in a fallen world where I don't want to eat just one scone, this means I can't eat scones to the glory of God every Saturday and fit into my pants…therefore I make them on special occasions when company is visiting and we can take a slow Saturday.
As you can tell, scones apparently mean a lot to me. So it's safe to say I'm a scone snob. Maybe that comes with being a coffee snob also. But not all scones are created equal. However, this scone loaf by Molly Yeh is all the right kinds of sweet and buttery, dark chocolatey…perfect with a fresh cup of coffee.
I had to search high and low around town for marzipan, and after I had ordered it online, found it at our smaller grocery store in town, the only place I didn't look. Look for it in your baking aisle near the canned pie fillings. Hopefully you can find it easily.
Marzipan is an almond candy concoction, sort of like a paste or dough, that adds a nice uniqueness of flavor and texture to this scone recipe. I choose to omit the almond extract the original recipe called for and subbed in more vanilla. I'm not a huge fan of artificial almond flavor, and the marzipan lends enough almond flavor for my taste. Feel free to make it to your preference.
You can make this recipe into a loaf, as the directions advise or you can also make them into individual scones. I've done both and prefer the loaf a little more–the loaf is a little denser and richer, which I like.
One other note that anyone making scones should know–don't skimp on the dairy, make sure you use full fat milks and creams, it's just the rule of a scone. That's what makes them a special treat. So in this recipe, use buttermilk or  heavy cream. It's a splurge but well worth it.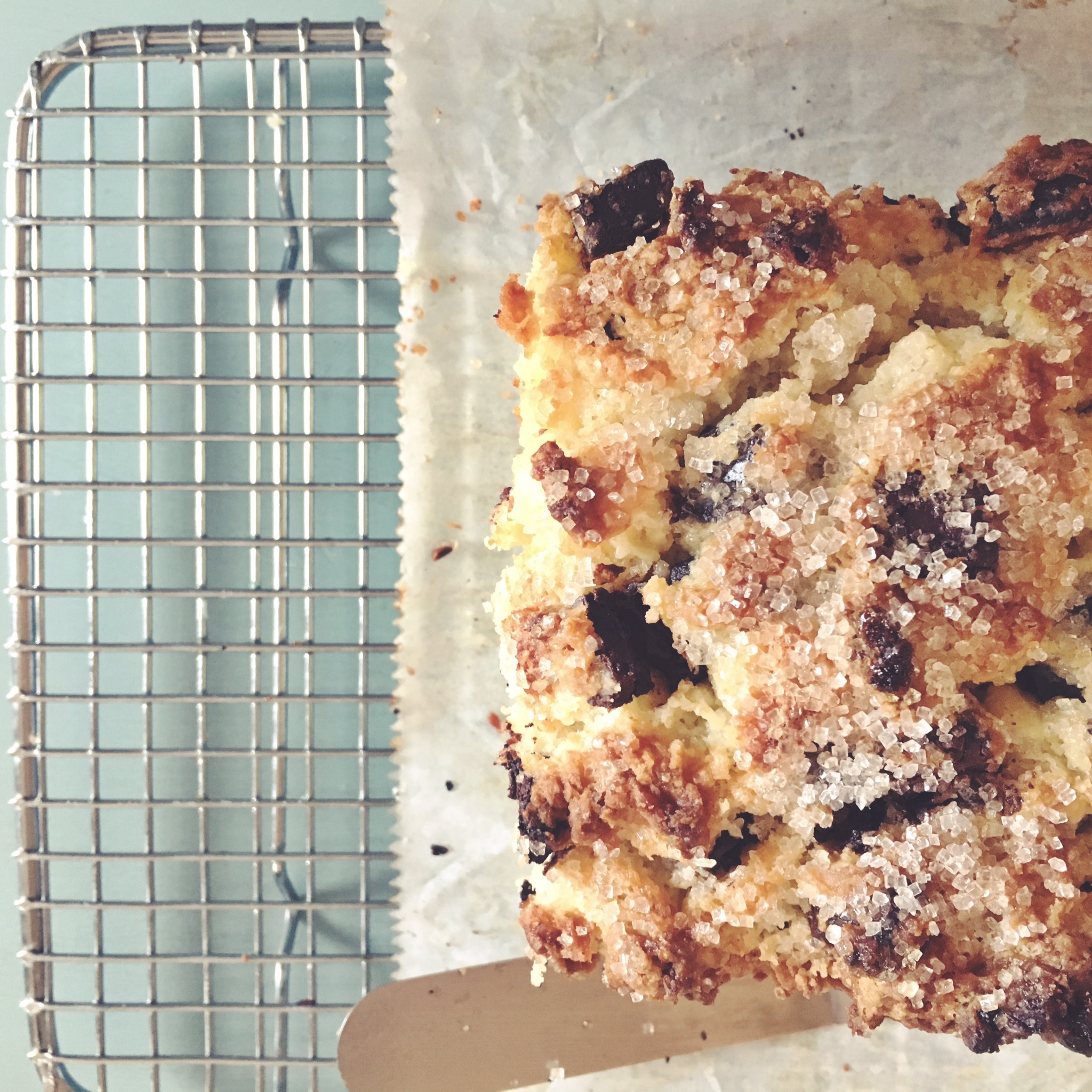 DARK CHOCOLATE MARZIPAN SCONE LOAF
7 oz. or less marzipan, chopped into 1/2-inch pieces (to taste)
1 Tbsp. powdered sugar
1/2 c. dark chocolate chips
2 c. all-purpose flour, plus more for dusting
1 Tbsp. baking powder
1/2 teaspoon kosher salt
2 Tbsp. plus 1 tsp. granulated sugar*
3/4 c. cold unsalted butter, cut into 1/2-inch cubes
2 large eggs
1/2 c. buttermilk or heavy cream
1 tsp. vanilla extract
Preheat oven to 400° F. Line an 8 x 4-inch loaf pan with parchment paper, allowing 1-inch wings to hang over the edges on the long sides.
In a large bowl, toss together the marzipan and powdered sugar to coat. Add the chocolate chips and set aside.
In a food processor, combine the flour, baking powder, salt, and 2 tablespoons of the sugar and pulse to combine. Add the butter cubes and pulse until the butter is in the size of peas. Add this to the bowl with the marzipan.
In a small bowl, whisk together the eggs, buttermilk or cream, and the extracts and add to the dry ingredients. If you're adding sprinkles, add them in now. Use a wooden spoon or spatula to stir until just combined.
Pour the mixture into the prepared loaf pan and spread it out evenly. Sprinkle the top with the remaining 1 teaspoon sugar and bake until golden brown on top and a toothpick inserted into the center comes out clean. Begin checking for doneness at 40 minutes. And watch that the top doesn't get too dark, tent with foil if needed.
Cool in the pan on a wire rack for 10 minutes. Using the parchment wings, remove to the rack to cool completely. Slice with a serrated knife and serve with jam.
Notes: *I sprinkled mine with coarse sprinkling sugar instead of granulated for extra crunch.
Enjoy!