Loving all the baked goods I do, means that I am continually in need of healthier recipes for those meals in between bakes, really just so I can bank up calories for what is really important.
This tuna salad has been my go-to this spring and I'm affectionately naming it, Not your Ma's Tuna Salad, because this is anything but your regular ho-hum tuna fish. No offense, I love a good and classic tuna fish salad, but this version is, shall we say, a more grown-up version. Perfect for an on-the-go lunch, this salad may quickly become a go-to for you too.
A few things.
First, I've discovered that not all canned tuna is created equal. This salad is particularly yummy with solid white tuna packed in vegetable or olive oil. You drain the can as you normally would with water packed tuna, but I've found the tuna has much more flavor and holds up better if it's packed in oil. My favorite tuna is Trader Joe's tuna packed in olive oil. Yum.
Secondly, feta. Anytime you want jazz up the salad party, invite feta. I've found that block feta has more flavor than pre-crumbled varieties that come in the little plastic tubs, so if you can,  opt for the feta you crumble yourself. It's creamier and will definitely enhance more flavor in this dish.
Third, the quinoa. Still considered in the heartland, a shall I say, a "tropical" ingredient. AKA, what is q-in-oa? If you haven't ever had quinoa, do try it! Similar to rice, only in my opinion better, you can make quinoa ahead for this salad (make sure you rinse your dry quinoa before boiling). Or you can easily find pre-made quinoa packets at places like Target, usually in the pasta/rice aisle. I find that the pre-made quinoa has more of an earthy, whole-grain flavor to it, so it depends on what flavors you like best.
Lastly, feel free to throw in other herbs, onions, etc. The fun thing about this salad is that you can easily adjust it to things you may already have on hand.
Enjoy!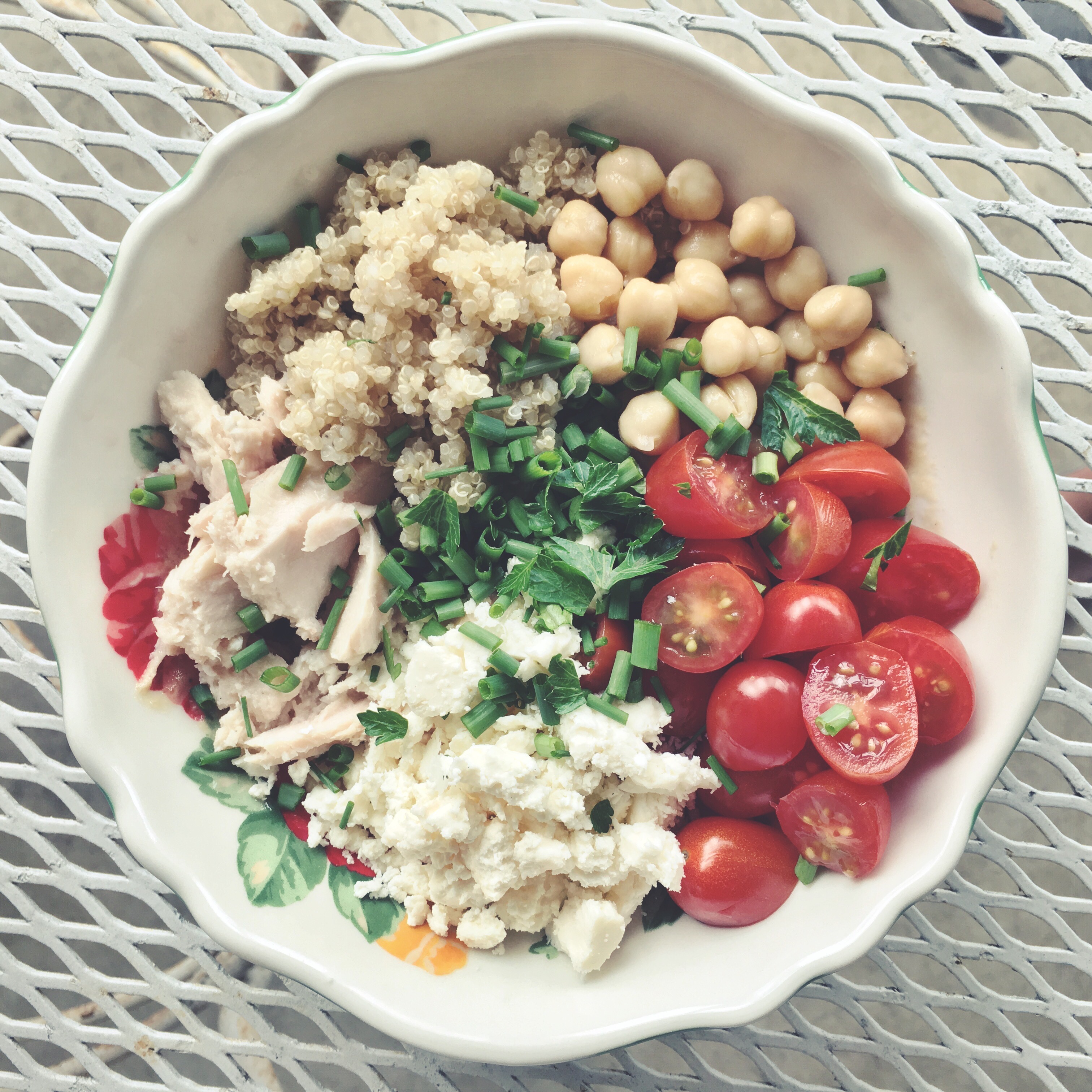 Not your Ma's Tuna Salad
{1 serving}
2 teaspoons extra-virgin olive oil
1 teaspoon red wine vinegar
1/2 teaspoon fresh lemon juice
1/2 teaspoon Dijon mustard
Dash of salt
Dash of freshly ground black pepper
1/2 cup cooked quinoa
1/4 cup unsalted canned chickpeas, rinsed and drained
1/4 cup chopped cucumber
1 tablespoon crumbled feta cheese
5 cherry tomatoes, halved
1 (2.6-oz.) pouch/can solid white tuna in oil
Green onion or parsley, for garnishCombine first 6 ingredients in a small bowl, stirring well with a whisk.

Combine quinoa and remaining ingredients in a bowl. Drizzle with dressing; toss gently to coat.Note: To cook your own quinoa, simply combine 1⁄2 cup uncooked quinoa with 3⁄4 cup water in a small saucepan. Bring to a boil; reduce heat and simmer 12 minutes or until all liquid is absorbed. Fluff with a fork.

(adapted from Cooking Light's Tuna-Quinoa Toss)