It was a quiet, simple, grey Saturday morning at my little nail shop. Just a few of us exchanging in the pampering ritual. When walks in two beautiful women who, oh how shall we say, well, they were pretty–hair and make-up impeccable–as in– not like the rest of us who had just clearly rolled out of bed and ventured out for a manicure. When I sat by them at the nail dryer, they said hello and I got up the courage to ask in a whisper, "Are you two in a country music band?" They pursed their lovely and well glossed lips and smiled in affirmation. After kindly complimenting me on my choice of nail color they left in a whirl and the whole shop turned to ask me—"who were they?!" It was Kimberly Schlapman and Karen Fairchild of Little Big Town. They were as friendly as they were lovely. I became a fan girl that day.
This week's pie recipe comes from Kimberly Schlapman's cookbook, which I highly recommend. I've read it cover to cover and have many recipes I love from it, including this week's pie recipe–aptly named: friendly coconut pie.
Friendly Coconut Pie
1 (9 inch) pie shell
2 eggs
1 c. sugar
4 tbs (1/2 stick) butter, at room temperature
1 heaping cup of sweetened flaked coconut
1/2 c. milk
Pinch of salt
1 tsp. vanilla extract
Preheat the oven to 325 degrees.
Using an electric mixer, beat together the eggs, sugar, and butter in a large bowl until well combined. Stir in the coconut, milk, salt, and vanilla.
Pour the batter into the pie shell and bake until the center is only the slightest bit jiggly and the crust is lightly browned, about 45 minutes. Let the pie cool for 10 minutes before serving.
Optional: If desired, sprinkle 1/2 c. of semisweet chocolate chips on the bottom of the pie pastry before pouring in the batter.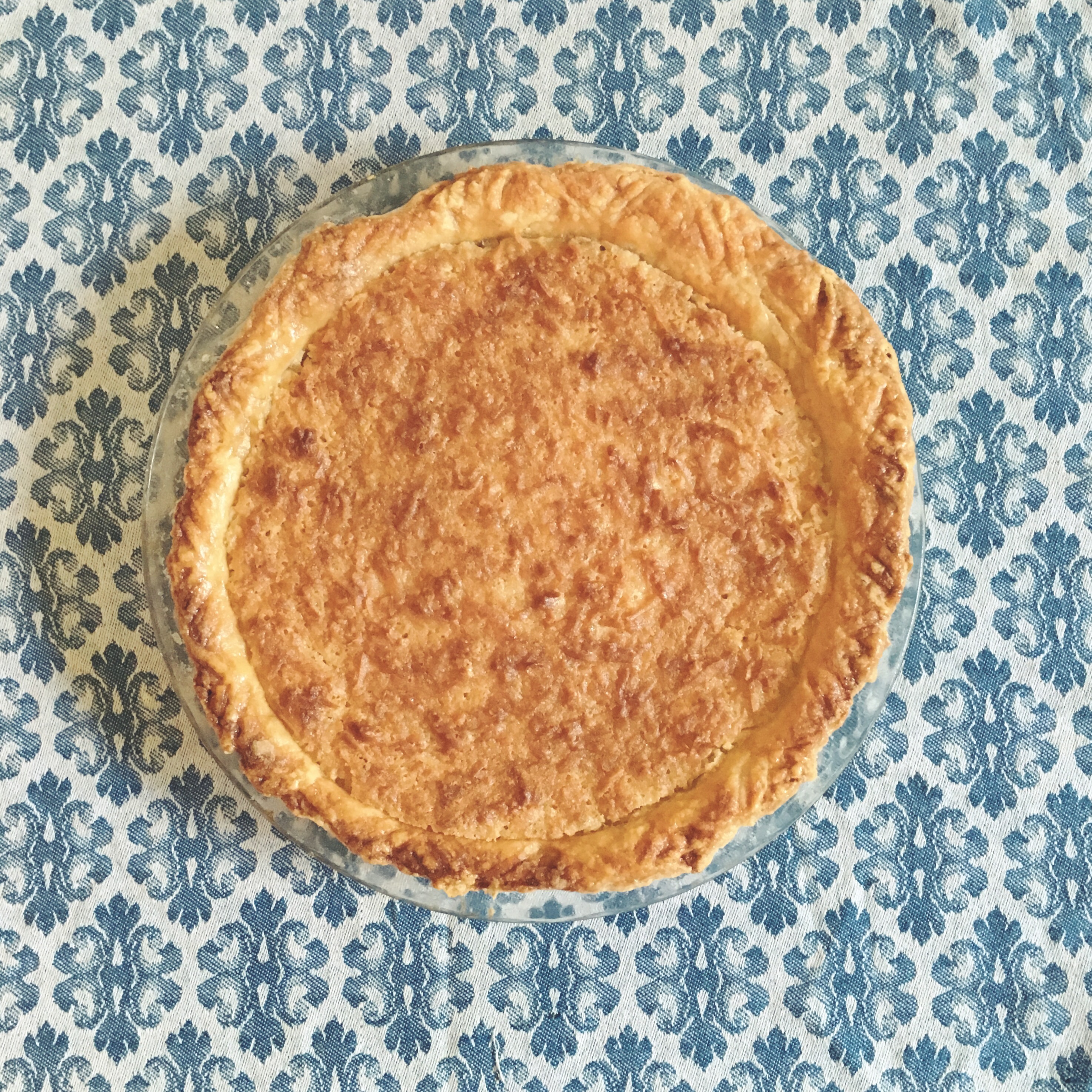 Source: Oh Gussie! Cookbook by Kimberly Schlapman