The flour is being measured and the oven preheated.  It's a slow, Sunday morning, well before church and in that space, my heart gets quiet enough for me to hear the unrest. I don't know about you, but if I'm paying attention I find myself letting hurry crowd out the fun, even when there is no deadline or clock to manage. Let me say that again, even when there is no deadline or clock to manage, I still feel the rush. Like a heart still beating fast after the running is over.
"Life is not an emergency…" the kind words of Ann Voskamp return to my heart over and over again, yet don't quite sink in deep enough. "Life is brief and it is fleeting but it is not an emergency."
"This day is not a sieve, losing time. With each passing minute, each passing year, there's this deepening awareness that I am filling, gaining time. We stand on the brink of eternity."
You see, I'm trying to learn this lesson, quickly. Everything quickly.
He has set eternity in the hearts of men. (Ecc. 3:11) and when I find a few moments quiet in the kitchen, that's when I start to notice how much unrest dwells in my heart and a nostalgia for a time in space when nothing is a hurry.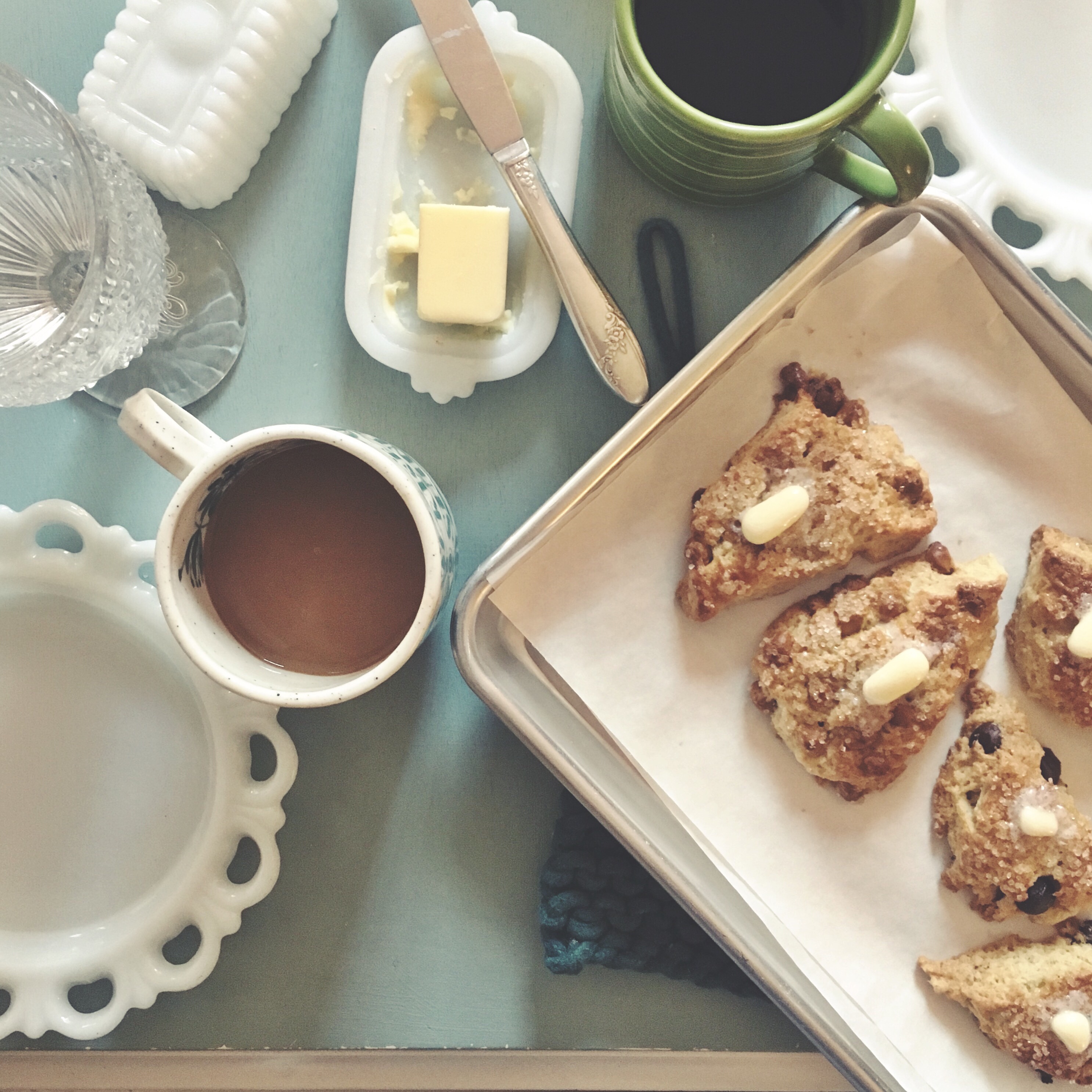 Let's talk about slowing for a second. It's kind of become a buzz word, yet I don't know if we should dismiss it as a cliche quite yet. Of course I'd say that, because the slowing down is sort of why I post this blog anyway. I need public accountability to create slow in my life. Let creativity stop my hurry and help me behold the wonders around me.
These are just ponderings and really confessions mostly because the hurry of my heart is heavy and needs to quiet. That's what I use my kitchen for–a barometer of where my heart is. Do I do the meal making and the baking with a heart free or a heart of hurry?  Most days the answer is hurry but every once in a while the Lord is helping me tend to these matters and come to him with the hurry and allow my rest to be trust in him.
As you bake these up, (and you really should, because they are quite lovely), perhaps maybe your heart will slow, let rise to the surface the deep unrest our culture and this earth around us is breeding, and allow the Lord to tend to it.
"And He who searches the hearts knows what the mind of the Spirit is, because the Spirit intercedes before God on behalf of God's people in accordance with God's will. And we know with great confidence that God, who is deeply concerned about us, causes all things to work together as a plan for good for those who love God, to those who are called according to His plan and purpose…" [Romans 8:27-28]
Let your heart rest, he is deeply concerned for you, loves you and is working good for you.
Sunday Scones
2 c. flour
1/3 c. brown sugar
1 tbs. baking powder
3/4 tsp. salt
1 stick butter, chilled and diced
1 cup butterscotch or chocolate chips
1/2 c. or more cold heavy whipping cream
1 lg. egg
Whisk dry ingredients together and add in diced chilled butter. Working with a pastry cutter, cut in butter until coarse and crumbly. In a separate bowl whisk together the egg and heavy cream, until combined. Gradually add cream mixture to dry mix and incorporate until dough forms. Add more cream by tablespoon if mixture is too dry. Form together and flatten into a disk, cut into desired size scones. For extra yum, coat scones in an egg wash and sprinkling sugar before baking.  Bake spaced apart on a cookie sheet until golden, around 20 minutes at 400 degrees. Enjoy!
P.S. these scones are perfect to freeze after baking and save for another day, just place them in a freezer safe bag and warm in a 350 degree oven for 6-8 minutes. We love to save the extra's in our house to have mid-week for breakfast as a special treat!