Bakery style cookies are just dreamy to me. I like my cookies to be substantial, and these extra large and extra chocolatey cookies are just that.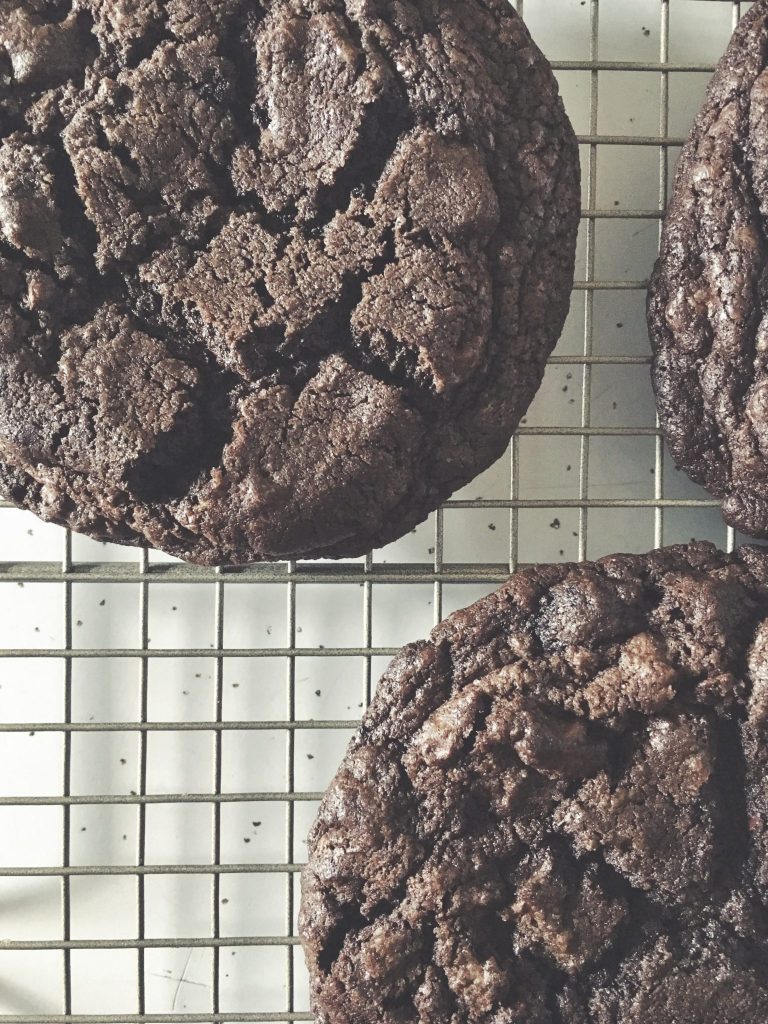 While  a little high maintenance, the extra work of chilling and melting chocolate is worth it!  Take a little extra time to bake these cookies up and I know you will enjoy every last crumble.
New York Style Double Chocolate Chip Cookies from Amy's Bread
1 5/8 cup all-purpose flour
3/8 cup of cocoa powder
1 1/4 tsp. baking soda
1/8 tsp. kosher salt
2 1/4 cups semisweet chocolate chips
1 cup slightly softened butter
1/2 cup dark brown sugar
1/2 cup sugar
2 large eggs
1 tsp. vanilla extract
3/4 cup pecans, toasted and chopped (optional)
Preheat the oven to 350 degrees. Line cookie sheets with parchment paper.
In a bowl, add the flour, cocoa powder, baking soda, and salt and whisk together.
In a glass bowl, melt 1 1/2 cups of the chocolate chips in the microwave (see package for melting instructions). Stir until smooth and then set aside to cool.
In another bowl, using an electric mixer, cream together the butter and sugar on medium speed for 2 minutes or until light and fluffy, scraping the sides and bottom of the bowl frequently. Pour in the melted and cooled chocolate and continue mixing until the mixture is uniform in color. (The chocolate should be pourable but not hot, or the butter will melt). Gradually add in the eggs and the vanilla, mixing until everything is well combined.
With the mixer on low speed, add the dry ingredients in stages. Mix only until everything is well combined. Scrape the sides and bottom of the bowl frequently. There should not be any pockets of dry flour in the dough. Add the remaining chocolate chips and pecans–mix until evening distributed.
Chill the dough in the refrigerator until it is firm but not hard (30 min to an hour). Once the dough is chilled enough to work with (dough will be sticky if not cool enough) scoop out dough into 12 large cookies.  To estimate the size, use a scant 1/2 cup measuring cup. Press the dough slightly on the top, to just flatten the top of the ball slightly. Do not flatten the ball. (If dough has gotten too warm again while working to shape the cookies, place back in the refrigerator until firm again).
Bake the cookies for about 18-20 minutes (I usually check them around the 14-15 minute mark), These cookies will spread a lot when baking. They should be just set when done. Cool the cookies on the sheets for 5 minutes, then move them to a rack and cool completely. Enjoy!