It's the holiday season and that means it's also baking season! Well for some of us, we take any season as an excuse to bake! But no matter how you look at it, it's baking season! This week's recipe is great anytime of year, but is delightful enough for Christmas, of course! Decadent dark chocolate with buttery, toffee-like shortbread–this easy treat is perfect to take to any last minute holiday gathering! Bake these up and enjoy every last little crumble!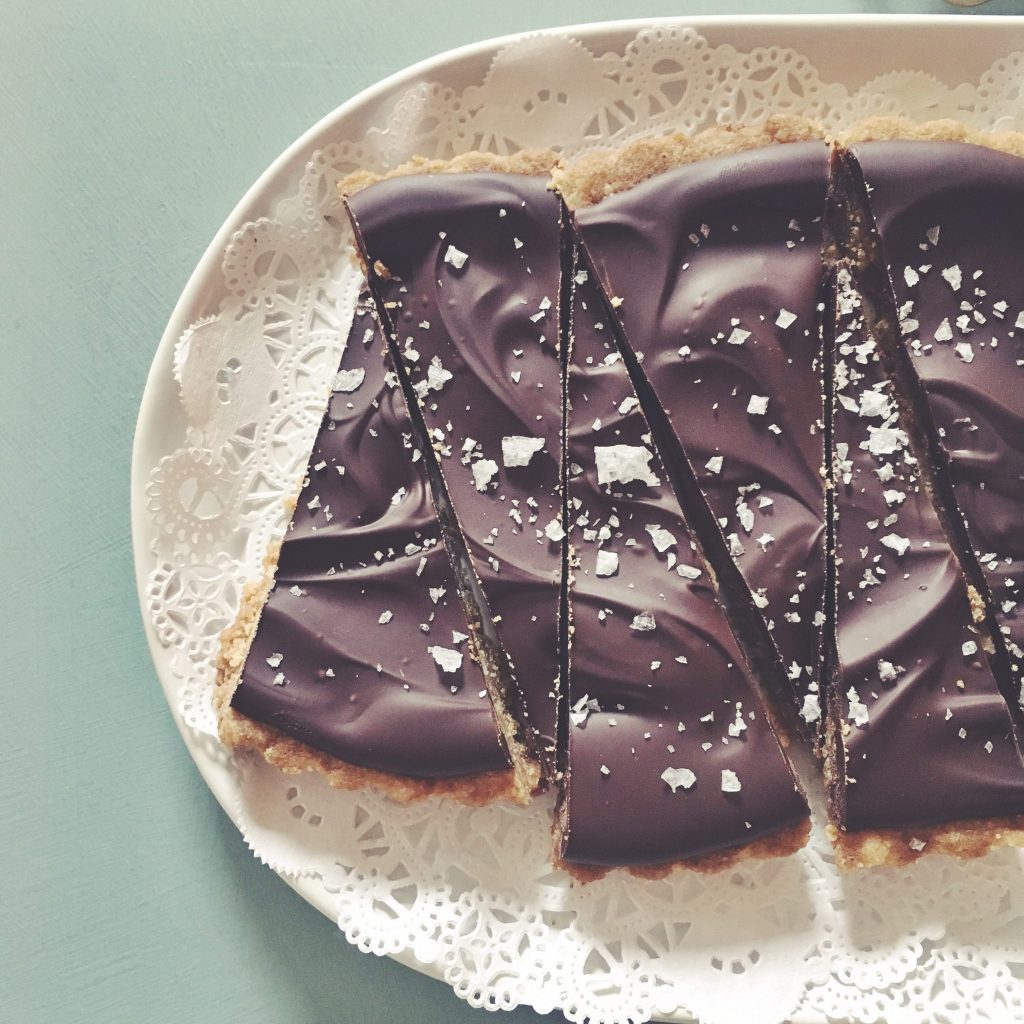 Brown Butter Shortbread with Dark Chocolate and Sea Salt
¾ cup (1½ sticks) butter
½ cup dark brown sugar
1 teaspoon vanilla extract
½ teaspoon sea salt
1½ cups all-purpose flour
3 oz. dark chocolate chopped
Flaked salt for sprinkling, I used Maldon
Lightly grease a 9½" round fluted tart pan or a 14″x5″ rectangle tart with a removable bottom. If you don't have a pan with a removable bottom you could line a 8″ or 9″ square cake pan with aluminum foil, leaving an overhang of foil on two opposite sides so you can easily lift the shortbread out of the pan.
In a small saucepan over medium melt the butter and continue to cook until it caramelizes and emits a nutty, butterscotch aroma. You will notice brown flecks in the bottom of the pan as the butter deepens in color. Be careful not to burn the butter. Remove from the heat.
In a medium bowl, combine the melted butter with the brown sugar, vanilla and salt. Add the flour and mix until incorporated. Spread the dough evenly in the prepared pan. Cover with plastic wrap and let stand for at least 2 hours or preferably overnight. Do not refrigerate.
When ready to bake, preheat oven to 300°F. Bake for 45 minutes.
Let cool completely. Melt dark chocolate in the microwave and then spread evenly on the shortbread. Allow chocolate to cool slightly then sprinkle with flaked salt.  When slicing the shortbread, take it slow and score lines first, as the shortbread can be crumbly!
Enjoy!