Maybe it's just me, but I dread hearing the words "what's for breakfast?" especially if I don't have a plan…which can be often. And who wants to begin their day already feeling behind? Not I!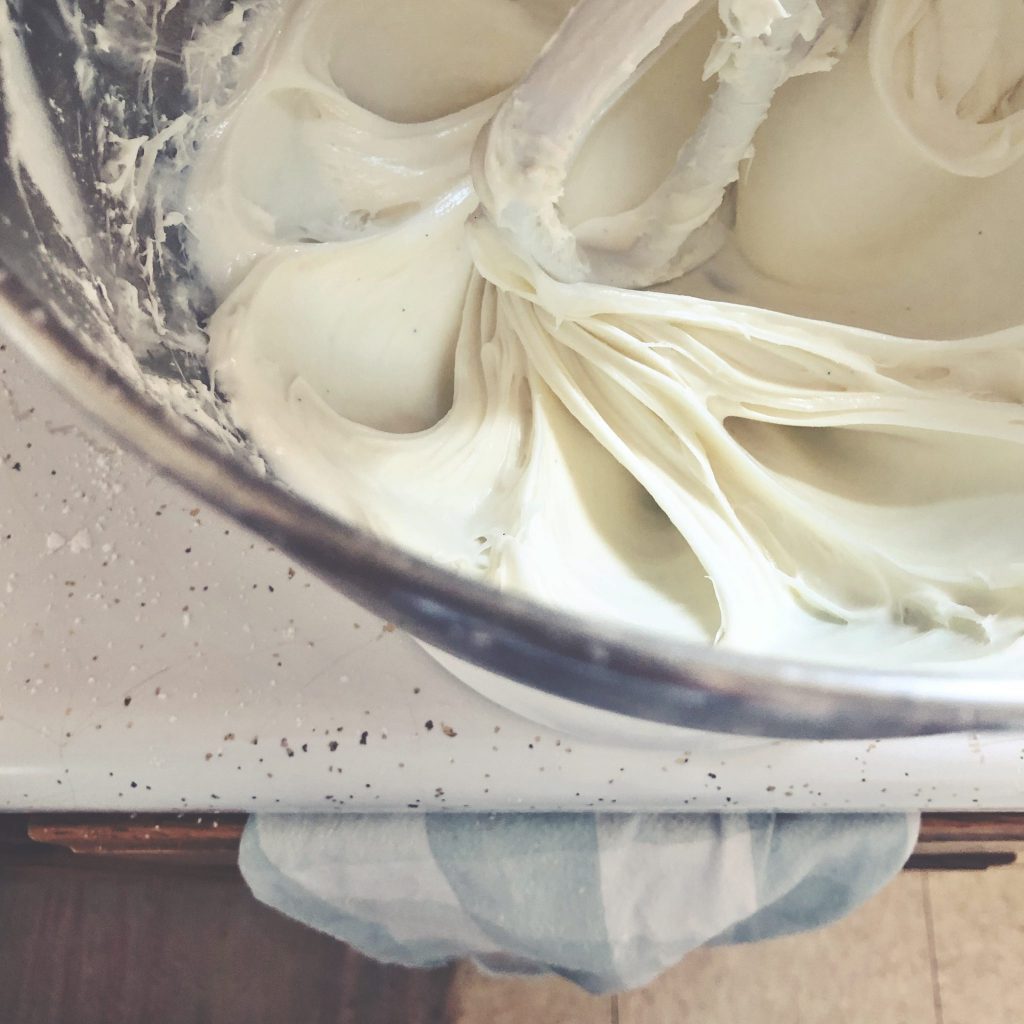 Don't get me wrong, I really like breakfast, but before marriage, coffee was my "breakfast" most days and I'd make "real" breakfast on weekends when it really was more of a brunch…a-la 10AM, not 7am, cold and dark thirty. Alas, these days, skipping breakfast isn't an option, my coffee is decaf now and the thought of cold cereal on a dark winter's morning depresses me.
So I've been working on building a repertoire of make-ahead options that I can make in the daylight and enjoy on these long, dark winter's mornings. Hence this developing theme of make-ahead mornings: my favorite egg strata and morning muffins.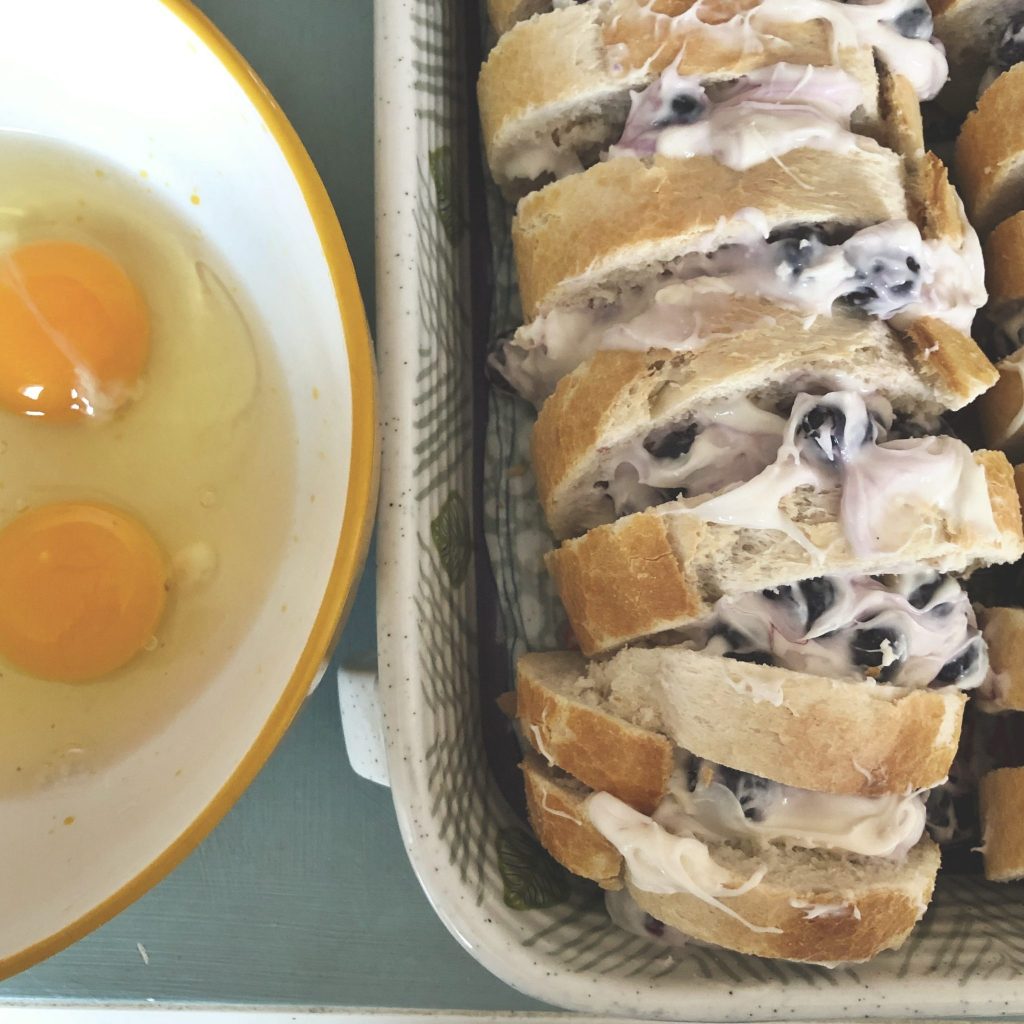 Somehow it's even easier to wake up when you know something yummy is waiting to be tossed in the oven and baked until bubbly. This French Toast Casserole is a splurge on the calorie front but oh it's good.  I halved the recipe for us, but have copied the whole recipe in case you are feeding a crowd.
Do you have any go-to make-ahead breakfast recipes? Please share them with me! I've got a baked oatmeal coming to you soon, and I'm working on a few other delicious things, but do share if you've got your own favorites!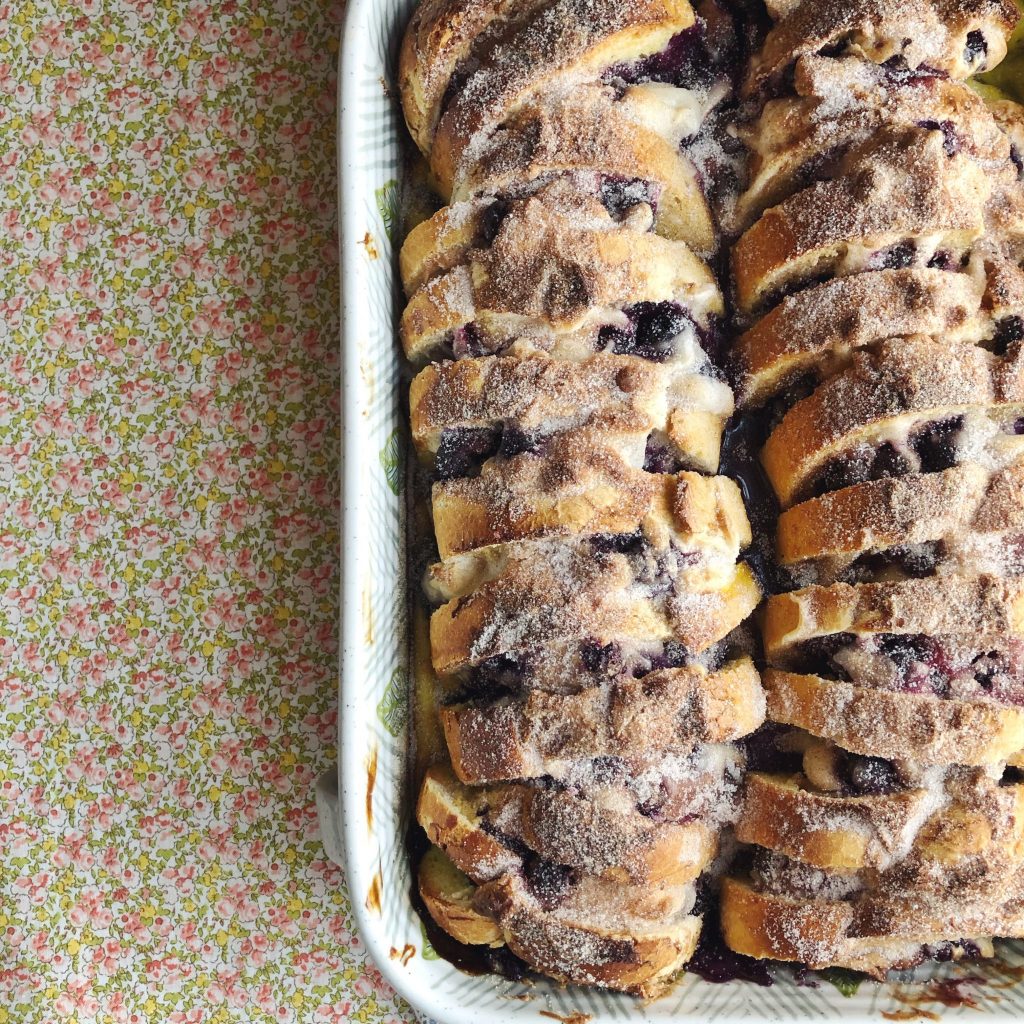 Blueberry and Mascarpone-Stuffed French Toast Casserole
2-3 8 ounces French baguettes
8 ounces mascarpone or cream cheese, room temperature
2 teaspoons vanilla
2 cups powdered sugar
2 cups fresh blueberries
6 eggs
2 cups milk
3/4 cup granulated sugar
1 1/2 teaspoons ground cinnamon
Grease a 3-quart baking dish. Cut each baguette into 1-inch slices, cutting to but not through bottom of loaf. For filling: In a medium bowl beat mascarpone and 1 teaspoon vanilla until smooth. Beat in powdered sugar until combined. Fold in blueberries. Spoon filling between baguette slices; arrange baguettes side by side in prepared dish.
In a large bowl whisk together eggs, milk, 1/2 cup granulated sugar, remaining vanilla, and 1/2 teaspoon cinnamon. Pour over bread. Cover; chill overnight.
Preheat oven to 350 degrees F. Uncover dish. In a small bowl stir together remaining 1/4 cup granulated sugar and 1 teaspoon cinnamon. Sprinkle over bread. Bake, uncovered, 40 to 45 minutes or until egg mixture is set, covering with foil the last 15 minutes if necessary to prevent overbrowning. Remove; let cool slightly. Makes 12 servings.
Recipe Source: Better Homes and Gardens