Bundt cakes are already teaching me, and I'm pretty sure it has nothing to do with baking technique.
It was a Saturday and an impromptu visit to my in-laws found me toting a freshly baked chocolate cake along. Bundts are cakes for gatherings of people, so of course, I should share!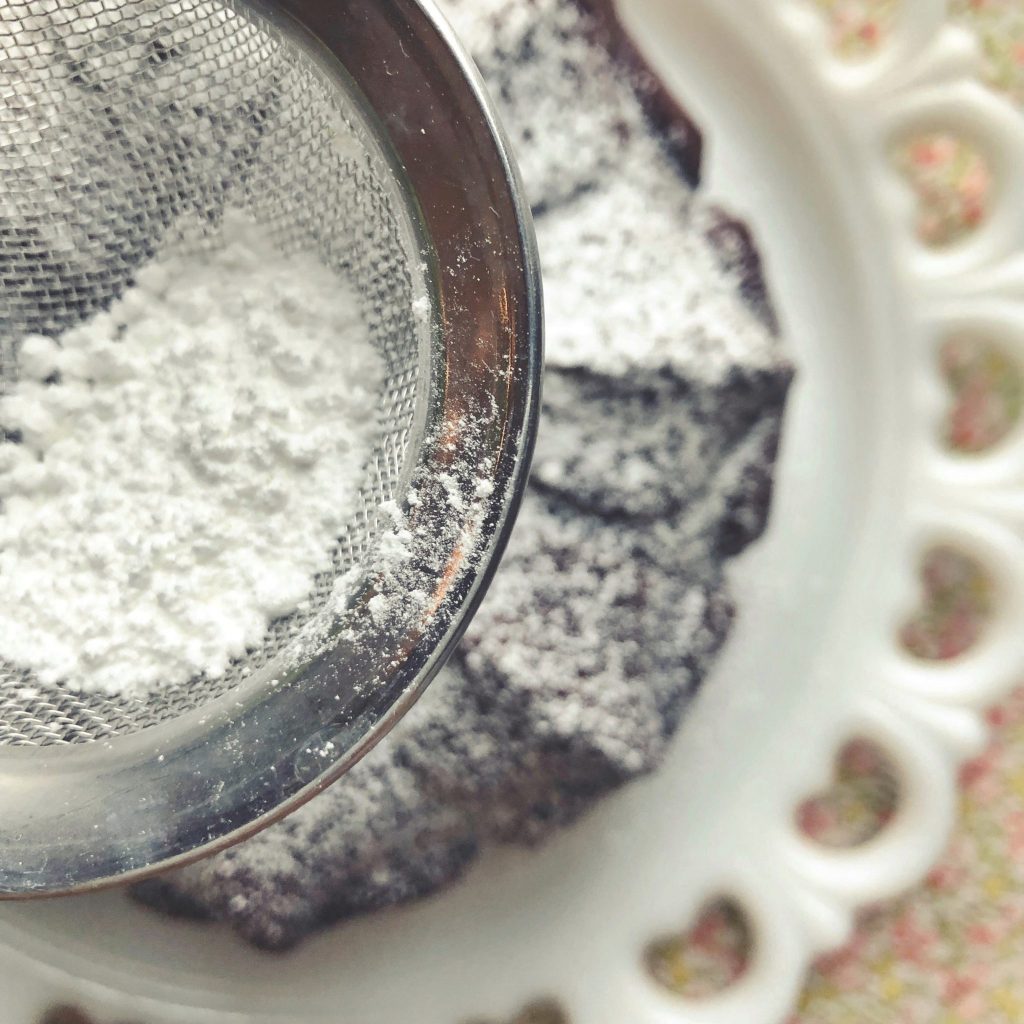 Seems simple enough, but oh, not for me…I've mentioned it here before–perfectionism and people pleasing are some of my greatest weaknesses. (I especially love when I can make someone happy with food! But I don't like having to practice and potentially fail in front of these people that I want to make happy.)
So serving a cake when I don't know if it'll be good or not, hits all of my insecure perfectionista buttons. Have I not learned anything in the year of pie? A year of cookies made me soft, because you can always taste test a cookie. Not so with this pretty little bundt…
As we were cutting into it, I was nervous. (Goodness, I'm not on the Great British baking show, why was I nervous?) Served it to them and sitting at the table, I literally had to tell my brain the truth–"these people love you–it's ok if it's not perfect." And it wasn't. I struggled with my embarrassment. Goodness, nothing like a bundt cake to expose the motives of my heart and my need for approval. Something so simple as a bundt cake, has become a proving ground for the condition of my heart. Sad to say it, but it's true.
So I'm asking the Lord to help me lighten up (even when my cakes aren't) and keep using bundt cake and whatever else he needs to, to expose my heart and help me be more like him and get less tripped up when I twist an opportunity to love people into an opportunity for people to love me. He never did that. I think that's why scripture tells us to pursue the practice of hospitality (Romans 12:13AMP). This loving people through hospitality is full of ways to stumble, but by God's grace, I'm going to keep pursuing the practice.
And by the way, I think if I had made the cake in a mixer, it would have been a-okay! For some silly reason, I hand mixed, and it came out too heavy. So if you are a chocolate cake enthusiast, bake this bundt up, maybe it will teach you something too!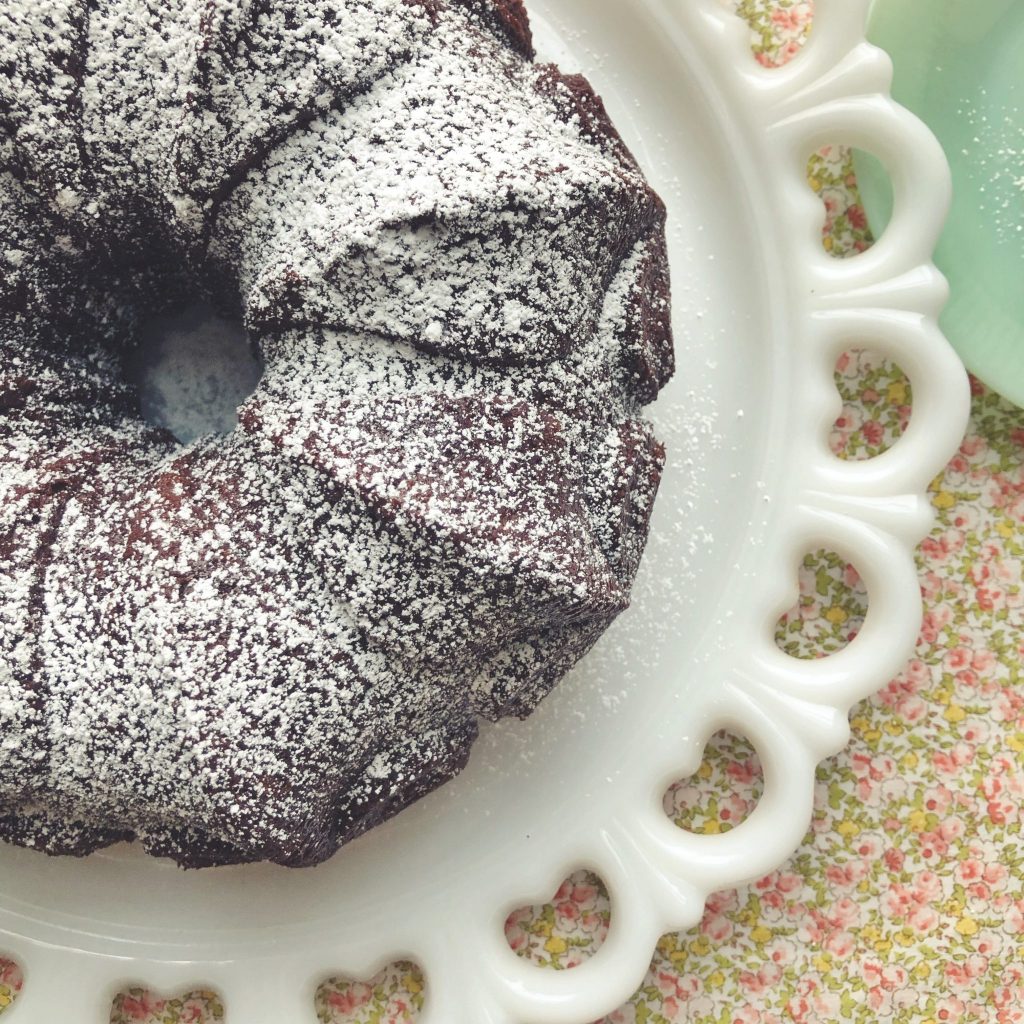 Chocolate Fudge Bundt Cake
(from King Arthur Flour)
1 cup brewed coffee*
16 tablespoons (1 cup) unsalted butter
3/4 cup unsweetened cocoa powder, Dutch-process preferred
2 cups sugar
3/4 teaspoon baking powder
1/4 teaspoon baking soda
3/4 teaspoon salt
2 cups King Arthur Unbleached All-Purpose Flour
2 teaspoons vanilla extract
2 large eggs
1/2 cup sour cream or yogurt (regular or Greek), full-fat preferred
*See "tips," below, for coffee alternatives.
ICING
2/3 cup chopped bittersweet or semisweet chocolate, or chocolate chips
1/4 cup heavy or whipping cream
Directions:
Preheat the oven to 350°F.
To make the cake: Place the coffee, butter, and cocoa in a small saucepan or microwave-safe bowl. Heat, stirring, until the butter melts. Remove from the heat, and whisk until smooth. Let the mixture cool for 10 minutes.
While the chocolate is cooling, put the sugar, baking powder, baking soda, salt, and flour into a mixing bowl, whisking to combine.
Pour the cooled chocolate mixture into the bowl with the dry ingredients, and mix until thoroughly combined. Scrape the bottom and sides of the bowl, and mix again to incorporate any residue.
In a separate bowl, whisk together the vanilla, eggs, and sour cream or yogurt. Mix into the chocolate batter, stirring until thoroughly combined.
Thoroughly grease a 10- to 12-cup Bundt pan, preferably non-stick. Pour the batter into the prepared pan. Bake the cake for 50 to 55 minutes, until a long toothpick or skewer inserted into the center comes out clean. Note: a pan with a dark interior will bake the cake more quickly; start checking at about 40 minutes.
Remove the cake from the oven, wait 5 minutes, and turn the pan over onto a cooling rack. After 5 more minutes, lift the pan off the cake. Let the cake cool completely before icing.
To make the icing: Combine the chocolate and cream in a microwave-safe bowl, or in a saucepan set over medium heat. Heat until the cream starts to bubble around the edges.
Remove from the heat, and stir until the chocolate melts and the mixture is smooth. Spoon the icing over the top of the cake, letting it drip down the sides.
Store any leftover cake at room temperature, well wrapped, for several days. Freeze for longer storage.
TIPS FROM KING ARTHUR FLOUR
If your cake develops a "foot" (a domed ring of cake) on the bottom, feel free to slice it off before transferring to a serving plate, for greater stability. But don't throw the cake trimmings away — baker's treat!
We highly recommend using brewed coffee in this recipe; while coffee won't add its own mocha flavor, it enhances the cake's chocolate flavor. However, you may substitute water, juice, or even stout beer for the coffee, if desired.
Recipe Source: King Arthur Flour