This is my go-to dinner when I don't know what to make–as in, we eat it practically every week. It's so rich and comforting, I know you will like it too! Plus it comes together so easily–I always make sure I have the ingredients in the freezer to throw this together in a snap. 
I love freezing shredded chicken and cooked bacon crumbles for meals down the road. And if your grocery has Mirepoix packages in the freezer aisle–the prep time for this soup is minuscule! I usually get frozen tortellini too (round tortellini are my favorite when they are in stock) since the frozen varieties are cheaper than the fresh tortellini in the deli case, but choose whatever suits your preference and budget.
That's the fun thing about soups, they are so forgiving and easily adaptable, so adjust this to your own family's tastes and preferences! It's a cozy soup and delicious served with a warm crusty loaf of bread toasted in the oven with some garlic butter!
Speaking of garlic bread–another new favorite thing–take an Italian loaf (I get mine from Walmart for around $1 each)–slice and lather with butter and a little garlic salt mixed together, top with a half slice of mozzarella cheese–toss into a freezer bag for whenever you need a yummy side of garlic bread!  When you are ready throw a few slices on a cookie sheet, toast it up at 450 degrees until golden–usually around 7-8 minutes! It's so easy and good! Especially with this soup!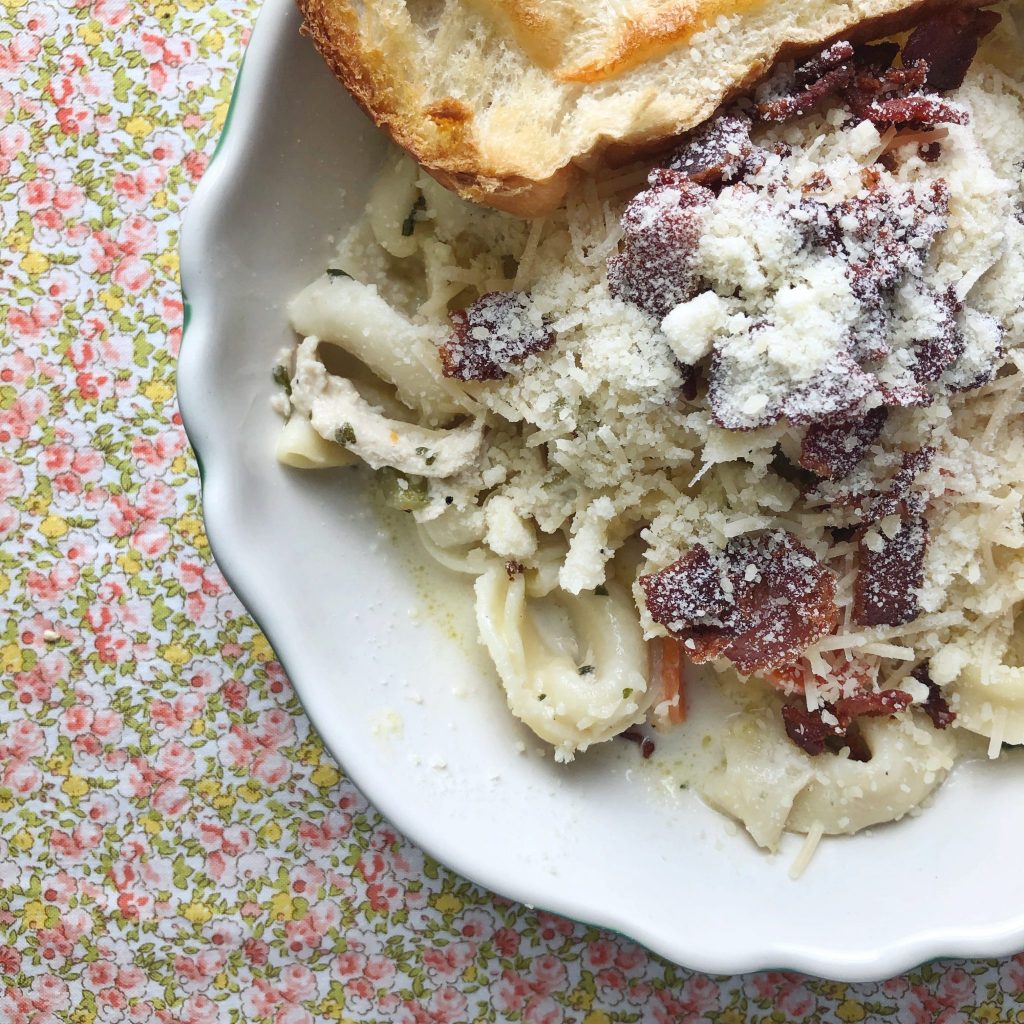 Weeknight Creamy Chicken Tortellini Soup
3 tablespoons extra virgin olive oil
1-2 Mirepoix packages or (1-2 cups chopped peeled carrots;  1-2 cups chopped celery and 1-2 cups finely chopped white onion)
1-2 cloves of garlic, pressed
2-3 cups cooked shredded chicken
32 ounces reduced sodium chicken broth
1 pound cheese tortellini 
1 cup heavy cream or whole milk (heavy cream is obviously richer, yum!)
1/4 teaspoon kosher salt
1/4 teaspoon freshly ground black pepper
1/4 cup chopped fresh parsley or 1 TBS dried
For topping (as in the best part of the soup):
crumbled crispy bacon
shredded &/or grated parmesan cheese
Heat oil in large 5 quart cast iron skillet over medium heat. When hot, add carrots, celery, onion and garlic, stirring and cooking for 5 minutes. Stir in chicken. Add chicken broth and let warm for 5 minutes. Stir in tortellini and cook for 10 minutes, until al dente. Add cream, dried parsley if using, salt and pepper, stirring to combine. Reduce heat to low and simmer for another 10 minutes. Before serving top with bacon, parm and fresh chopped parsley (if using). 
Recipe adapted from Picky Palate