This cookie is worth writing home for…it's big, it's rich, it's chocolatey and not at all fussy! You need this chocolate cookie in your life. Trust me. 
I'd have these cookies every day if my jeans would let me. They are so good. Like the best brownie and cookie you've ever had, all rolled into one. I'm just going to say it one more time–these cookies are oh my, my, my GOOD!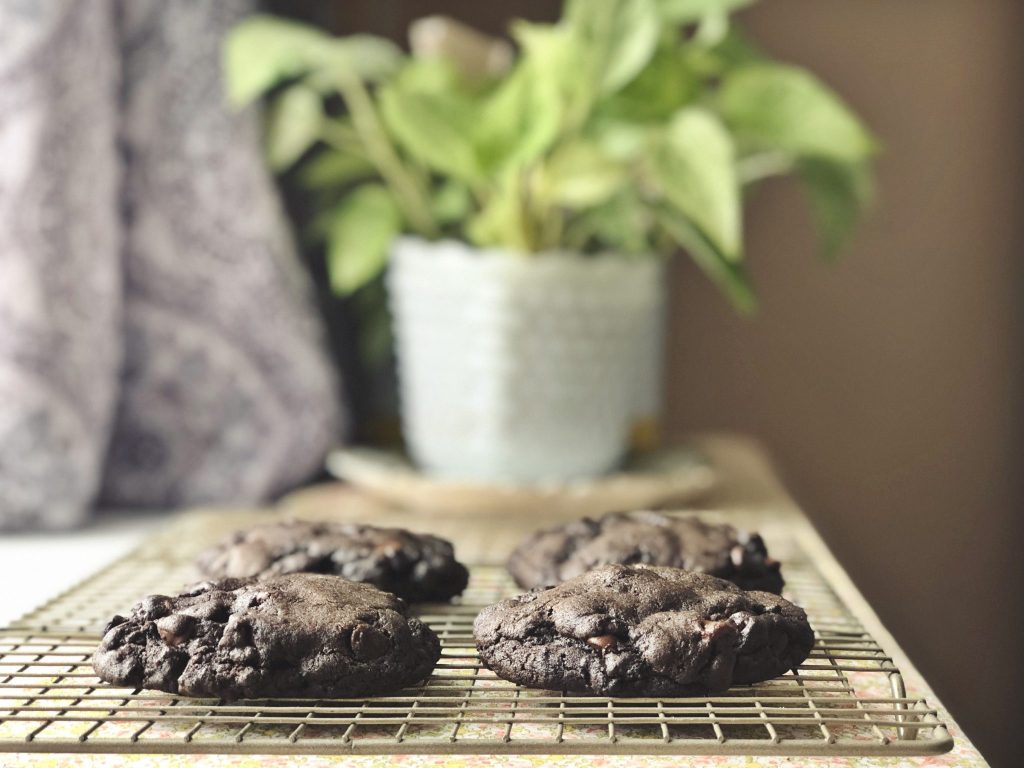 Double Dark Chocolate Cookies
1 cup COLD Butter cut into small cubes
1 cup Brown Sugar
1/2 cup Sugar
2 Eggs
1/2 cup Dark Baking Cocoa
1 cup Cake Flour
1 1/2 cup All-Purpose Flour
1 teaspoon Cornstarch
3/4 teaspoon Baking Soda
1/2 teaspoon Salt
1 1/3 cup Semisweet Chocolate Chips
Preheat oven to 410 degrees.
In large bowl, cream together cold butter and sugars until light and fluffy, about 4 minutes. Add eggs one at a time, mixing well after each addition.
Add cocoa, cake flour, all-purpose flour, cornstarch, baking soda, and salt and stir until combined. Stir in semisweet chocolate chips.
Chill dough for 15 minutes.
Separate dough into large balls and place on lightly colored cookie sheet. Lightly press on top of dough to smooth out. If you have a scale, you can make them anywhere from 4.5 ounces – 6 ounces. You will fit 4-6 cookies on one large cookie sheet. The dough makes 8-12 extra large cookies.
Bake for 9-11 minutes or until golden brown on the top. Let them rest for at least 10-15 minutes to set.
Recipe from: Modern Honey