Do you have a favorite chocolate chip cookie recipe?
It's easy to get overwhelmed by all "the best" chocolate chip cookie recipes in our world these days… and I kinda love it!
Gone are the days of us all following the recipe on the back of our chocolate chip bag and calling it a day.  I read almost weekly someone's chocolate chip cookie recipe comparison challenges, where they make lots of recipes (mostly notable, or shall I say "famous" recipes) and compare each of them to the other.  I love those by the way–but we aren't all looking for the same thing in a chocolate chip cookie–I have a few different favorites myself, depending on how much time I have, and what sort of mood I'm in, and I've even made some of those "famous" recipes….but y'all… I think this recipe is my new favorite for all time. It may not be yours, but I just had to share in case your quest for the ultimate chocolate chip cookie continues…I think my searching ends here.
These cookies are buttery without being too thin or too crispy–they are deliciously substantial, but not cake like, and what's better–they are even more delicious when they are cool, making them perfect for gifting and the ultimate party cookie! I'll spare you all "the best" synonyms I've got and just say these are my favorite.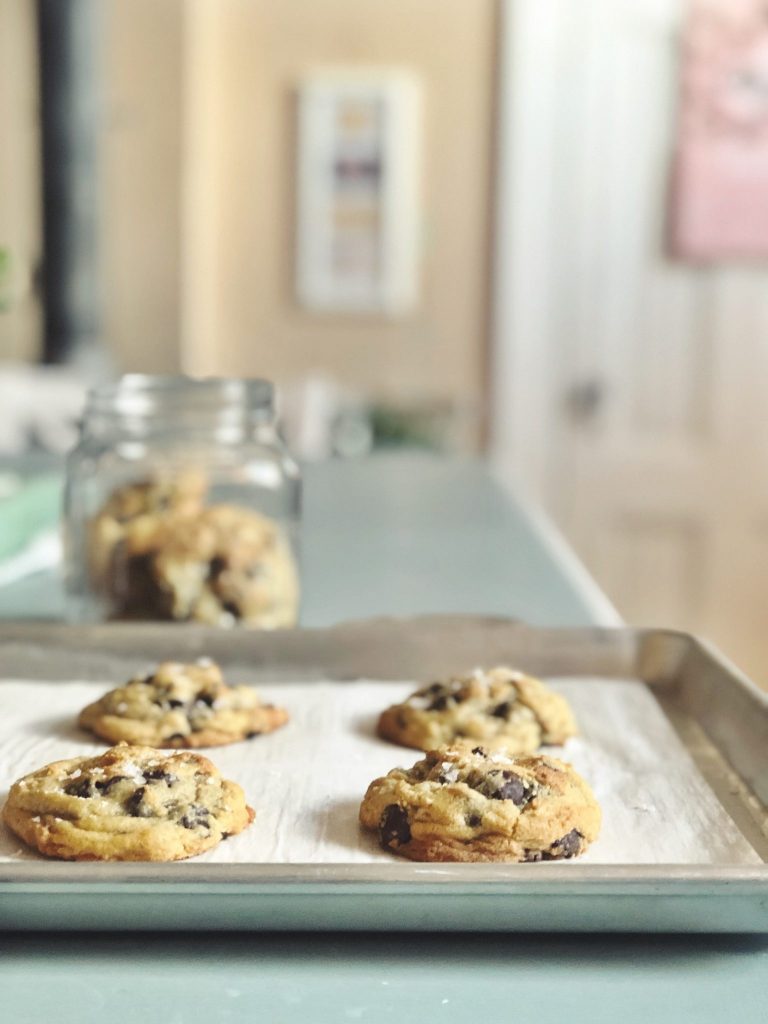 My Favorite Chocolate Chip Cookies
1 cup Butter (cut into cubes, if you want a slightly thinner cookie…microwave for about 5-8 seconds)
1 cup Brown Sugar
1/2cup + 2 Tablespoons Sugar
2 large Eggs
2 teaspoons Vanilla
2 3/4 cups Flour (may use all-purpose or 1 cup cake flour and 1 3/4 cups of all-purpose flour)
1 teaspoon Cornstarch
3/4teaspoon Baking Soda
3/4teaspoon Salt
2 – 2 1/2 cups Chocolate Chips (semi-sweet or mix of milk chocolate and semi-sweet)
Flaked Sea Salt (optional)
Preheat oven to 400 degrees (if not chilling the dough). In a large mixing bowl, cream butter, brown sugar, and sugar for 4 minutes until light and fluffy.
Add eggs and vanilla. Mix for 1 minute longer.
Stir in flour, cornstarch, baking soda, and salt. Mix just until combined. Fold in chocolate chips.
If time permits, wrap the dough tightly in plastic wrap and chill for 24 hours. If not, scoop cookie dough onto baking sheets. Modern Honey suggests using parchment paper or Silpat silicone baking sheets on light-colored baking sheets.
Bake for 9-11 minutes or until the edges just begin to turn a light golden color.  Remove from oven, sprinkle with flaked salt (if using) and let set for 5 minutes before removing from the cookie sheet.
Recipe Note from Modern Honey:
**If you chill the cookie dough, make sure to tightly wrap it so it isn't exposed to air.  Once you are ready to bake the cookie dough, let the dough sit out for at least 15-30 minutes to allow to come to room temperature.  Depending on how long it has been chilling, it may be a little crumbly. Press together with hands to form balls. (Speckled Pumpkin: I chilled my dough already formed and in an air tight container–so I just baked them straight from the fridge.)
Recipe Source: Modern Honey