Who isn't looking for a way to save some time in the kitchen? Meals are less daunting to me if I know I have some of the basic components already prepped and waiting to be used in the freezer. This simple slow cooker shredded chicken has made my life so much easier lately, so I had to share it with you too!
What I love about this recipe is that my slow cooker does all the work and I can get ahead on a lot, a lot, a lot of meals in this simple prep step. I can get so many versatile meals from this one chicken recipe—soups, casseroles, salads, pot-pies, pizzas (sharing some of those recipes with you soon). Having a small stock pile of pre-cooked chicken has really made my cooking times so much easier, I hope maybe it may make your life easier too! This recipe is like having pre-shredded rotisserie chicken at your beck and call, just a trip to your freezer, no grocery run required.
I've been working with bone-in chicken breasts from ALDI. Using bone-in chicken yields more flavor and also allows me to make what I affectionately call Ma Ingalls Chicken Stock. So not only am I getting great chicken, I'm also getting great chicken stock to cook with too!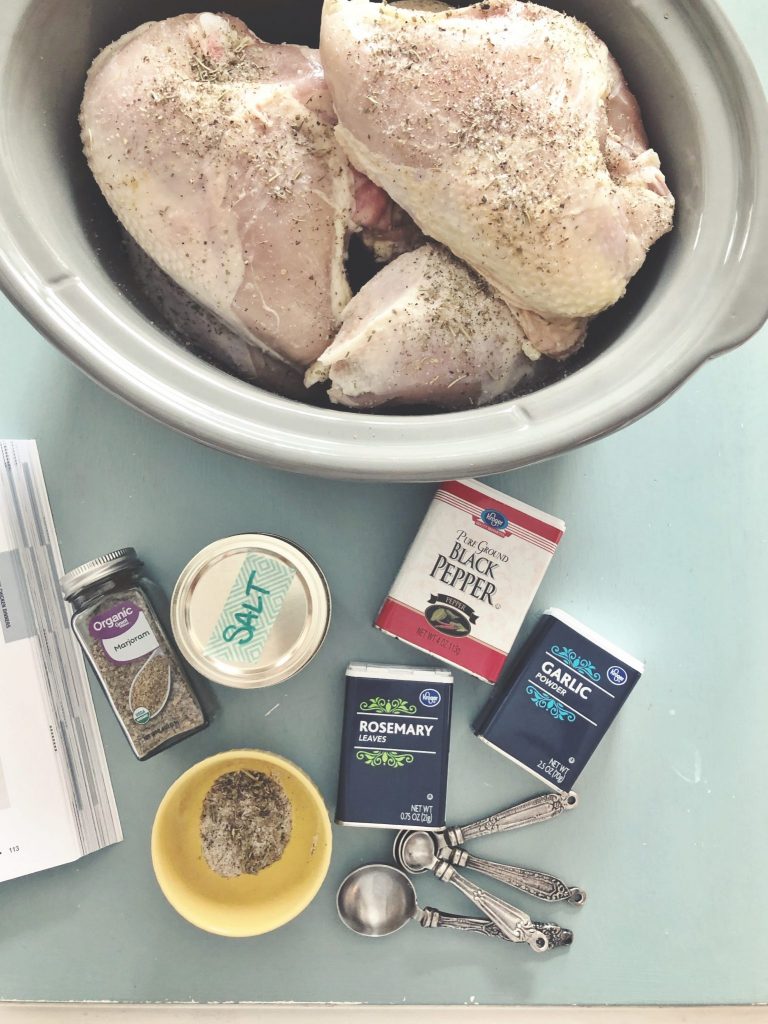 Versatile Chicken from the Slow Cooker
4 to 6 bone-in chicken breasts or 1 roasting chicken, giblets removed
2 tsp fine sea salt
1 tsp garlic powder
1/2 tsp black pepper
1-2 tsp choice of herbs (rosemary, thyme, marjoram, herbs de Provence, Italian blend)
Mix salt, pepper and spices together and rub generously over each piece of chicken. Place chicken in crock of slow cooker and cook on low for 6-8 hours or HIGH for 3-4 hours—until the chicken is tender, falling of the bone and can be shredded easily with two forks (easily=no effort at all).
Once the chicken is cooked, remove from the slow cooker and set aside until cool enough to handle. If desired, reserve the bones and skin as well as the pan drippings to make–Ma Ingalls Chicken Stock).
Remove the chicken meat from the bones and chop/shred as desired. To save for later, place chicken in freezer safe containers or bags. Chill in refrigerator before freezing. To use after freezing, allow to thaw in refrigerator and use as desired in recipes!
A helpful hint:
You can also start cooking the chicken in the slow cooker right before you go to bed. Set the cooker on low heat and it will be done for you in the morning!