Recipe boxes. Maybe a little or a lot tattered. Stuffed full of 3×5 cards, in handwriting faded by time. Worn by use, day in and day out. Speckled with spills and dusted with flour. Loved.
Have you ever seen the kind? I bet you have and the person's kitchen they were in, I imagine, it was special!
A collection like that gets built over time. Time. Experience. Trial. Error. And cooking again.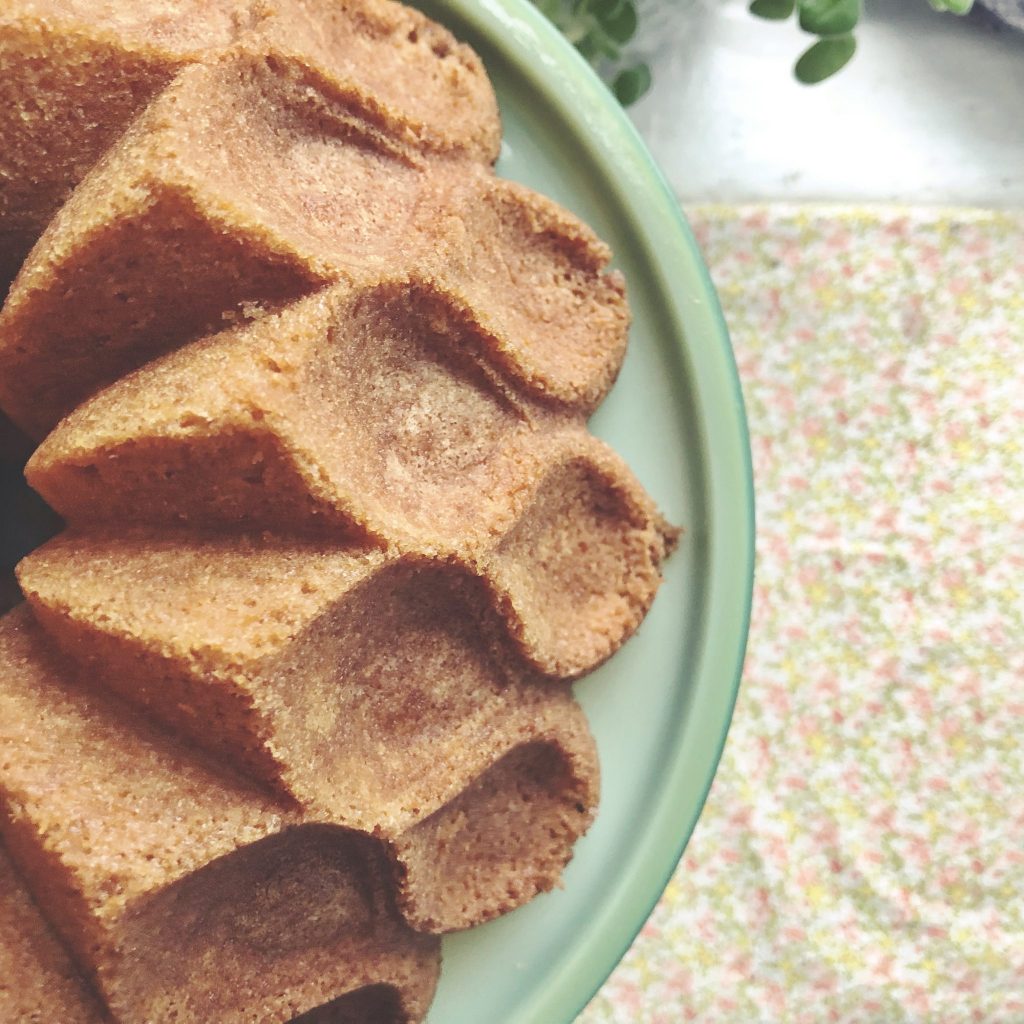 I come from a family of women who kept such boxes and books of recipes, so imagine the happiness in my heart when sitting in the kitchen of my beloved mother-in-law, when talking about recipes, she reaches for her own recipe box–full of family favorites, most passed down from generations before her. Little did I know then, that I'm now part of her family, and now those recipes are my own family recipes, and that's something I will always cherish.
You see, those recipes are more than the cakes and the cookies and the casseroles, it's about the people we make them for and the people who made them for us.  In my mother-in-law's little box are collections of decades of women working in the kitchen before her and decades of her hustling to get a good meal before her own brood. Loving her people and cooking for them. Times when maybe she felt how special and holy-like it was to offer a meal at a table for her family. Times when it maybe just plain felt like work. Those tattered 3×5 card recipes with her along the way. Pieces of her mom and grandma with her while she bustled in the kitchen. Memories remembered and memories made in the kitchen.
I'm so thankful to be among a long line of loving women and their legacy of serving the people we love with food. The practicing of hospitality that scripture mentions. It's like those recipe cards, torn with time and not always pristine, but no doubt well loved.
Now when I see a recipe box, they are a reminder of the ways we love and serve our families. To be cooked for is to be cared for, as Amy Hannon says. My mother-in-law still does that for us–still hustles and sacrifices to feed our growing brood. And as I work on adding to my own recipe box, I remember all the time and quiet serving it takes to build and keep a legacy like this. Day in and day out with every dinner, that's what we are doing. With the Lord's help. Whether it's a homemade marvel or a frozen pizza, our times around the table as a family are sacred, holy and very special. To all the women in my life who display and are teaching me this, I say thank you!
This month's bundt hails from my beloved mother-in-law's kitchen.  She discovered the recipe in a Taste of Home magazine; so it's been tested in the homes of many good cooks and bakers around the nation, not just our family, so you can especially tell that it's good! The buttermilk cake is delicious. The caramel frosting, decadent! Bake it up and if you like it, add it to your own recipe box, it's definitely in mine!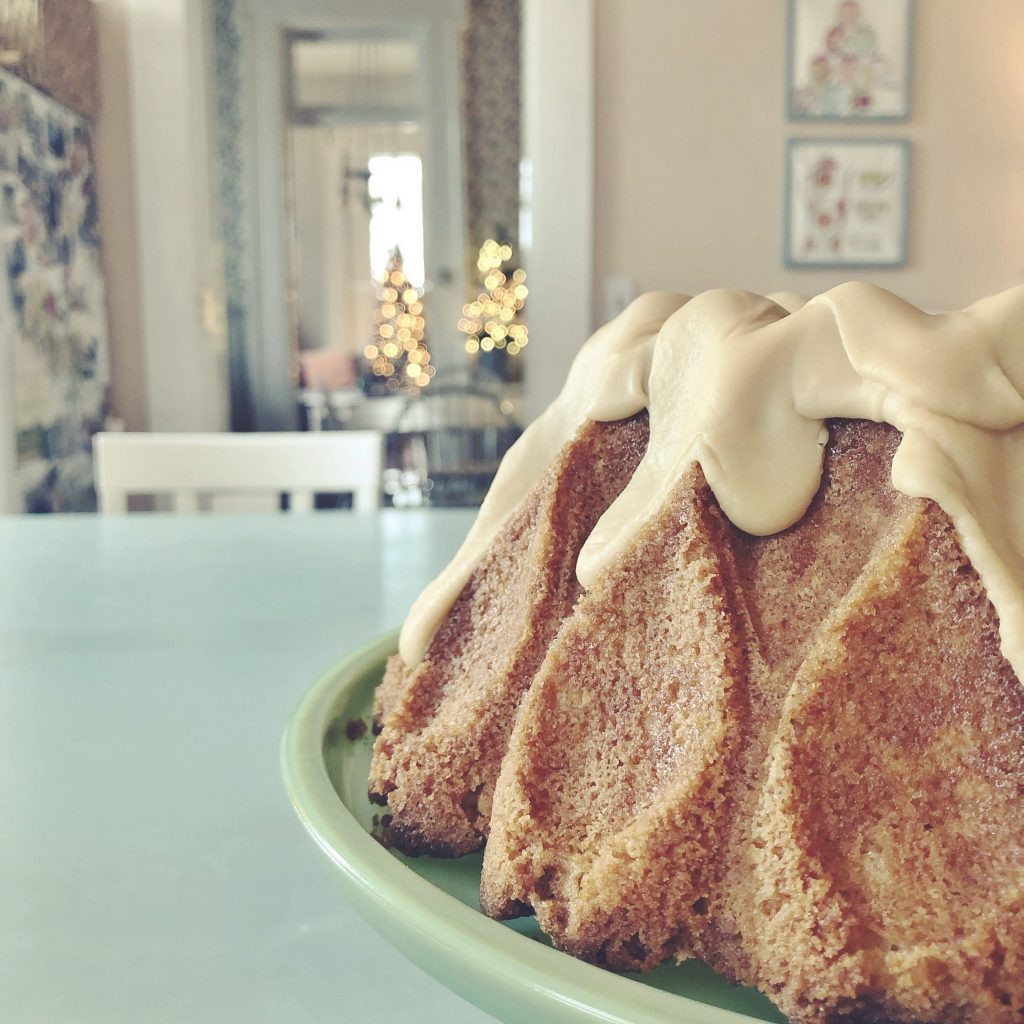 Buttermilk Bundt with Caramel Icing
1 cup butter, softened
2-1/3 cups sugar
1-1/2 teaspoons vanilla extract
3 large eggs
3 cups all-purpose flour
1 teaspoon baking powder
1/2 teaspoon baking soda
1 cup buttermilk
ICING:
1/4 cup butter, cubed
1/2 cup packed brown sugar
1/3 cup heavy whipping cream
1 cup confectioners' sugar
Preheat oven to 350°.
Cream butter and sugar until light and fluffy. Beat in vanilla and eggs, one at a time, beating well after each addition. In another bowl, whisk together flour, baking powder and baking soda; add to creamed mixture alternately with buttermilk (batter will be thick). Transfer to pan sprayed with Bakers Joy.  Bake until a toothpick inserted in center comes out clean, 45-50 minutes, checking for doneness every 4-5 minutes in the end. Cool in pan 10 minutes before removing to a wire rack/cake plate to cool completely.
For icing, in a small saucepan, combine butter, brown sugar and cream; bring to a boil over medium heat, stirring constantly. Remove from heat; cool 5-10 minutes. Gradually beat in confectioners' sugar; spoon over cake.