I love soups! Hearty, wholesome and comforting, especially during the winter season. Everyone needs a few soup recipes they love! This soup is rich and creamy. And like most soups, it's also extremely forgiving.  If you have more of something or less of something,  feel free to adapt any soup recipes to what you have on hand or what suits your family's taste! Soups are highly adaptable in nature, which is what makes them the perfect, easy dinner!
If you've never cooked with gnocchi before, give them a try! How can you go wrong with mini potato dumplings?! I can't speak for all brands, but the mini gnocchi from Delallo are perfect in this soup!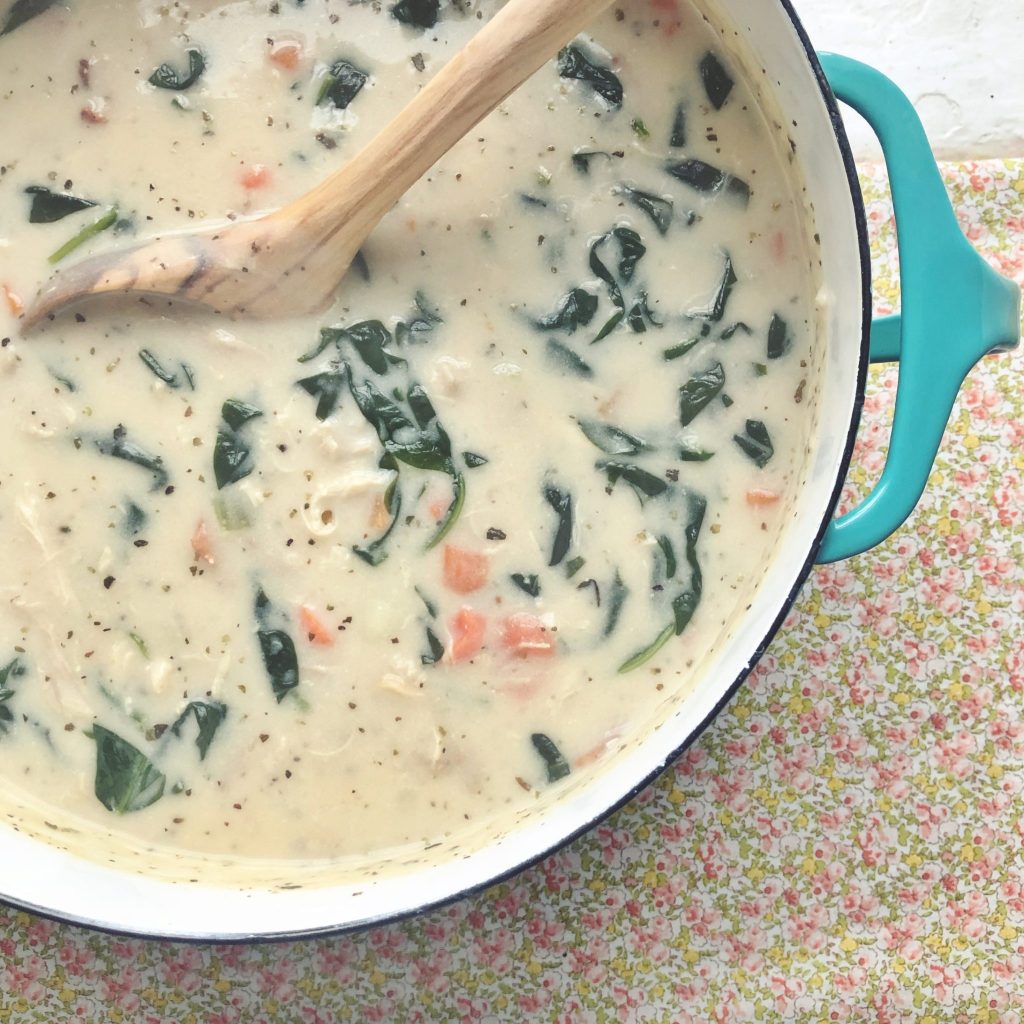 Favorite Chicken Gnocchi Soup
2-3 boneless skinless chicken breasts, cooked and shredded
2 cups mirepoix (just a simple mixture of chopped onions, celery, and carrots–the frozen packages from the store are excellent for soups!)
1-2 teaspoons dried basil
1-2 teaspoon Italian seasoning
1 teaspoon salt
4 cups chicken stock or broth
3 tablespoons cornstarch dissolved in 2 tablespoons water
2 (12 ounce) cans evaporated milk, or 2 cups heavy cream, half and half or whole milk
1- 1lb. package mini potato gnocchi (I like Delallo)
6 slices bacon
2-3 cloves garlic, minced
5 ounces fresh baby spinach (1 package)
Combine the chicken, mirepoix, seasonings, and chicken stock. Bring to a boil and then simmer until veggies are tender–usually around 20-30 minutes or so…then add the cornstarch mixture,  milk, and gnocchi. Stir and simmer until the soup has thickened and the gnocchi has softened–another 20-30 minutes.
While the soup is thickening, cut the bacon into small pieces and fry until crispy. Drain on paper towels and wipe most of the bacon grease out of the pan, leaving just a little bit for the spinach/garlic. Add the garlic and saute for one minute on medium heat. Add the spinach and stir until wilted. Remove from heat. Add half the bacon and spinach to the soup and stir to combine. Use the remaining bacon to garnish when serving!
Be sure to taste and adjust with salt/pepper before serving. It may need more depending on the saltiness of your broth.
The leftovers do soak up a lot of the moisture, so you might need to add more milk or broth depending on how soupy you want it and/or how many leftovers you make.
This recipe is adapted from a crockpot version of this recipe from Pinch of Yum.