To close our week of celebrating chicken, I think it's only fitting to share a chicken potpie recipe…after all isn't chicken pie the queen of all chicken recipes? The parmesan crust and the buttery, creamy gravy in this chicken potpie are so delicious, and dare I even call this chicken potpie, a little fancy. What's even better is the recipe is so versatile, you can make individual potpies or one large, or two medium sized pies and save one in the freezer for a busy weeknight!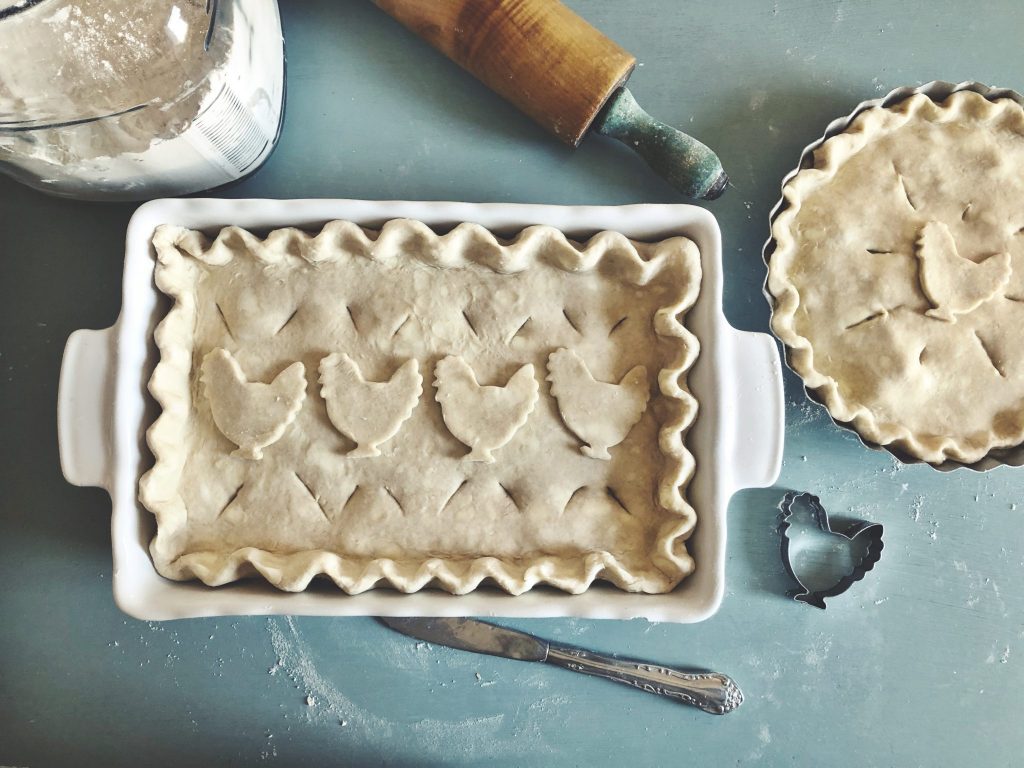 Tiffani's Chicken Potpies
For Crust
2 1/2 c. all-purpose flour, plus more for surface
1 c. (2 sticks) unsalted butter, cut up and cold
1/4 c. finely grated Parmesan cheese
Pinch kosher salt
For Filling
6 tbsp. butter
1 large onion, finely chopped
Kosher salt
Pepper
3 medium carrots, sliced 1/4 inch thick
1-2 white potatoes, diced evenly
1 parsnip, peeled and sliced 1/4 inch thick (I didn't have a parsnip, so I omitted, but they are delicious and would be lovely to add)
2-4 cloves garlic, finely chopped/pressed
6 tbsp. all-purpose flour
1/4 c. white wine vinegar
4 c. chicken broth/stock
1/4 c. whole milk or cream
4 c. shredded cooked chicken 
3/4 c. frozen peas
3 tbsp. chopped flat-leaf parsley (or 1 tsp dried)
2 tsp. chopped fresh thyme (or 1/2 tsp dried)
1 large egg
Make crust: In food processor, combine flour, butter, Parmesan and salt. Pulse until mixture resembles coarse crumbs. Add 1/4 to 1/2 cup cold water, 1 tablespoon at a time, until dough comes together and forms a ball. Turn out dough onto lightly floured surface and shape into a disk; wrap in plastic wrap and refrigerate at least 30 minutes or until ready to use. (You can also cut the butter into the flour using a pastry cutter and add in the parm and salt, and bring together with cold water as directed).
Make filling: In Dutch oven, melt butter on medium-high. Add onion, 1/2 teaspoon salt and 1/8 teaspoon pepper and cook, stirring, 3 minutes. Add carrots, potatoes and parsnip and cook, stirring, 3 minutes. Stir in garlic; cook 1 minute.
Add flour and cook, stirring continuously, 5 minutes. Add white wine vinegar and cook, scraping up any browned bits. When liquid has almost evaporated, stir in broth and then milk. Cook until mixture is thickened and coats back of spoon, about 10 minutes. Remove from heat; stir in chicken, peas and herbs. Season with salt and pepper to taste.
Heat oven to 350°F. Grease 6 ramekins or one 9-by 13-inch baking dish with oil—or two pie plates (freeze one for later and bake one for now!)
On lightly floured surface, roll dough into 1/4-inch-thick rectangle about 15 inch- by 11 inch. If using individual ramekins, cut 6 circles 1 inch larger in circumference than ramekins.
Transfer filling to baking dish(es), lay dough over filling and trim to 1/2 inch from edge of dish(es). Fold overhang under to create a lip and crimp as desired. Cut 1-inch slit in top crust (6 slits for large pie). Beat egg with 1 tablespoon water and brush over crust.
Bake until crust is golden brown and filling is bubbling, about 1 hour for large pie, 45 minutes for small pies.
Note: In my experience butter pastry can melt in your oven and make a big mess–so use deep dishes and make sure to tuck your pastry into your bakeware to avoid any spills!